A monthly news bulletin that takes a look at development issues, provides analysis of global justice issues and keeps you updated with the work of CWS. An alternative to mainstream media sources. Past issues can be read here
February 2016
Download as PDF or read the text below:
For Your Diary
8 February—27 March – Seven Weeks for Water "Thirst for Justice: A Pilgrimage of justice and peace in Palestine."
20 February World Day of Social Justice
4 March World Day of Prayer
8 March  International Women's Day—"Pledge for Parity"
22 March World Water Day— "Better water, better jobs".
You can help rebuild lives by supporting the Christmas Appeal—it's never too late.
Imama George and daughter-in-law Rana bake traditional bread on a kerosene oven in a camp for internally displaced people in Iraq. Photo: LWF/Seivan Salim
Refugees on the Move
An ACT Alliance report on Iraq highlights the effect of the severe lack of funding.  The number of people in need doubled in the past year—10 million people with 3.3 million internally displaced, 500,000 returning refugees and 250,000 Syrians. The UN reports its appeal is 96% is unmet.
In the year ending September, ACT worked with local NGOs to distribute 61, 015 food kits and vouchers to families, and provided materials like bedding and kitchen supplies to 1,431 households.  They distributed 2,526 hygiene and seasonal kits, as well as grants for transport, business start-ups and rent, cash for work schemes, vocational training, psychosocial support, and repairs to 5 schools and 5 primary health centres.  ACT says the situation exceeds local and international capacity.  For Theriakos living in a camp near Dohuk, the situation is exhausting and there is no work.  "Thank you to all the people who are helping us.  We really appreciate that.  This is a stupid war of narrow-minded people," he said.  You can help by giving to the Iraq Appeal.
Double the Quota continues
CWS made a submission as part of the campaign to increase the number of refugees resettled annually in Aotearoa New Zealand.  Immigration NZ is currently reviewing the quota.  If you think New Zealand can do more, please consider writing to your MP or  Michael Woodhouse, Minister of Immigration or sign the Action Station petition.
One Billion Rising

In Madurai, the organising committee for the annual event expected 500 people on 14 February, a global day of action.  Women, girls and men joined the campaign to end violence against women and girls with speeches, dance and song.  EKTA organised a speech competition on the importance of the Girl Child in School for students, and posters and leaflets to highlight the issue.
India: Gender Issues
EKTA based in Madurai, South India reports more people are accepting that violence against women and girls is unacceptable because of its work.  They reached around 28,500 people in the 2015 international 16 day campaign ending 10 December. EKTA worked in 313 villages with local councils, highlighting child marriage, violence against women,  the declining child sex ratio, and domestic violence.
Volunteers surveyed bus shelters and welcomed a state initiative to allocate child feeding centres and toilets.  They ran workshops in schools and events on global issues including the UN Sustainable Development Goals.  EKTA concludes the best way to counter the rise of fundamentalist groups is through strong and vibrant women's agencies with multiple strategies.
Nepal: Nine Months after EQ
ACT Alliance continues to help Nepalese improve access to water and sanitation, livelihoods, psychosocial support in schools and communities, shelter to survive the severe winter, and education.  The border blockade with India limiting fuel and other supplies to the country has now been lifted.  It has delayed rebuilding as has slow government decision-making.
Lent: Seven Weeks for Water
CWS is encouraging support for the Ecumenical Water Network's weekly focus on water.  Resources are on water justice in the Middle East especially Palestine.
Pacific Climate Conference
Pauline McKay attended "In the Eye of the Storm" hosted by Victoria University.  Pacific Leaders including Kiribati's President Tong welcomed last year's Paris agreement and called for more action to assist people affected by climate change.  Along with other speakers he supported greater efforts to cut emissions and assist those affected.  A statement is being finalised.
World Day of Prayer
Please support your local service on 4 March prepared this year by Cuban women.
Christmas Appeal
Your support to the Christmas Appeal makes the work our partners do possible.  Parishes are asked to send in outstanding donations.
Tonga: Cyclone Winston
CWS is monitoring the weather situation in Ha'apai and Vava'u experiencing gale force winds from the return of Cyclone Winston.  Ama Takiloa groups trained to prepare for disaster will play an important role in their communities.  Last night 2,521 people sheltered in the evacuation centre on Vava'u and 181 in Ha'apai.  CWS will respond further if needed.  Please pray for families recovering from drought and Cyclone Ian in 2014.
Operation Refugee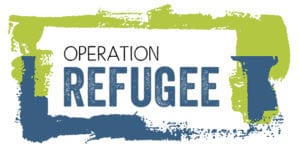 We are looking for 100 people to join CWS's  fundraising challenge from 16-20 June to help Syrian refugees.
About Update
Update provides news, information and stories.  Reproduction of items is encouraged with attribution to CWS.  Current and back issues are available.