FOR YOUR DIARY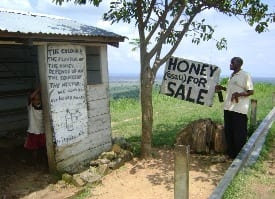 27 November – Advent Sunday.  Launch of 66th Christmas Appeal.  Resources available.
28 November – 10 December UN Conference on Climate Change, Durban South Africa
1 December – World AIDS Day. Resources available.
2 December – International Day for the Abolition of Slavery
3 December – International Day for Disabled Persons
10 December – Human Rights Day
Share the Care
Practical programmes that give rural people the skills and resources to eat good food and earn new income are helping Ugandan families out of poverty.  Enterprising farmers like Sande George are sharing those skills with bee farmers.  He has set up two groups of apiarists who help each other and work with other farmers.   Each of his 26 hives produces 2–2½ kg of honey twice a year.  Most of the honey is sold to travellers and tourists on the Ishaka-Kasese Road.  He earns enough to meet the school requirements for his children and other domestic needs.  The training and some of the first hives were supplied by the Planning, Rehabilitation and Development Programme (PDR) of the Church of Uganda, a CWS partner.
Programmes focused on developing small sustainable agriculture in rural communities are a proven way of helping people out of hunger.  Supporting this year's Christmas Appeal launched on Advent Sunday will help many families keep hunger at bay.  Highly volatile food prices, the changing climate and unsustainable agriculture practices make life uncertain but giving small farmers the skills and resources will provide some protection.  Donations to the Christmas Appeal will enable CWS partners to share the care many times over as community members work together.  Donations can be made through church offerings or now.
We have Faith—Act now for Climate Change
Africans have organised the campaign, We have Faith in an effort to mobilise failing support for the United Nations talks on Climate Change due to begin on 28 November in Durban, South Africa.  Archbishop Desmond Tutu will present a global petition calling for a just and legally binding climate treaty at the culmination of a climate caravan travelling from Burundi.  ACT Alliance and the WCC will participate in local events.
AIDS can be ended
The UN released a new report for World AIDS Day on 1 December estimating that in 2010, 34 million people were living with HIV, 2.7 million new HIV infections and 1.8 million people who died of AIDS-related illnesses.
The Ecumenical Advocacy Alliance (EAA) welcomed the report that shows how the scale-up in HIV treatment is beginning to deliver results: nearly 50% (6.6 million) of the 14.2 million people who are eligible for antiretroviral therapy in low- and middle- income countries accessed life-saving treatment in 2010, an increase of 1.35 million since 2009. The report, released by UNAIDS on Monday, also estimates that 2.5 million deaths have been averted in low- and middle- income countries due to increased access to HIV treatment since 1995.
While acknowledging this achievement, faith representatives warn that now is not a time for complacency. "It's great that half of all people needing treatment now have access to it, but what about the other half?" questions Karen Plater, chair of the EAA's HIV and AIDS Strategy Group. "We are talking about people, not just statistics."
Hunger in the Horn of Africa
Relief efforts combined with good rains are keeping people alive in the Horn of Africa.  On 18 November the UN downgraded three areas of Somalia from famine to emergency due in large part to substantial humanitarian assistance.  Strong rains in Ethiopia are improving water and agriculture.  However, continued military activity in southern Somalia, north-eastern Kenya and areas around the Kenya –Somalia border  is hampering aid efforts along with heavy rains.  With 13 million people at risk from this historic famine, ACT Alliance members are continuing to provide food and water supplies as well as providing administrative support to refugees. Donate now.
Cluster Munitions Update
Cluster munitions campaigners are observing the final stages of negotiations on a protocol under the auspices of the UN Convention on Conventional Weapons.  Rather than strengthening the existing treaty the text under negotiation undermines the ban on cluster munitions.  A supporting petition signed by over 587,000 people and circulated in New Zealand was presented.  Negotiations end on 25 November.  CWS is a member of the Cluster Munitions Coalition.  It asked the NZ government to oppose a protocol that would allow cluster munitions.  New Zealand has ratified the Cluster Munitions treaty.
West Papuans attacked
Police and military forces attacked the Third Papuan People's Congress on 19 October, resulting in six deaths and hundreds of detainees.  In response to reports from the Catholic seminary where some of the attacks happened, CWS and other groups expressed concern about human rights violations and called for peaceful dialogue between Papuans and the Indonesian Government.
Giving that Works
Give a gift that makes change where it matters and doesn't add to the clutter.  CWS's Gifted range offers gifts of substance helping families and communities earn income, offer education and end injustice.  Buying bees, for example,  will help families like Sande's (see above) get ahead  or purchase footballs and books for vulnerable young people in South Sudan, the world's newest country.  The entire range is available.
New Internationalist offer
The New Internationalist catalogue offers books and resources from a different perspective.  Beautiful calendars and cards are a constant reminder of the variety of human life.  You can purchase or call Catherine on phone (03) 386 6153 for a catalogue.  Proceeds from sales expand the reach of the New Internationalist magazine and provide a voice in the struggle for global justice.
Direct Partners
CWS has launched a new scheme for groups wanting to develop links with one partner through fundraising.  CWS will provide more in depth reports and updates.  Contact cws@cws.org.nz for more information.
About Update
Update provides news, information and stories.  Reproduction of items is encouraged with attribution from CWS.  The current and back issues are available.