November 2012
Download as PDF or read the text below
FOR YOUR DIARY
Find out more about the Christmas Appeal.  Contact CWS or follow link for details:
Tauranga November 23, 5:30 – 8:30 pm at Wesley.
Hamilton November 24, 10 am – 1 pm Chartwell Cooperating Parish
25 November International Day for the Elimination of Violence against Women The WCC resource 16 Days of Activism to end Violence against Women is also available.
1 December  World AIDS Day
2 December  Advent Sunday and launch of Christmas Appeal 2012
3 December International Day of Persons with Disabilities
10 December International Human Rights Day
18 December International Migrants Day.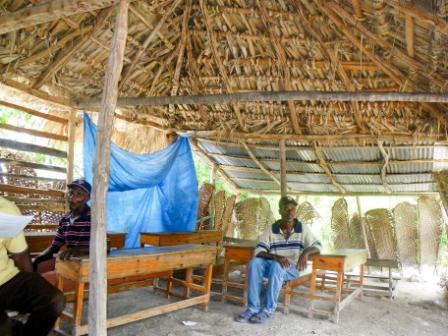 The first priority for rural Cotterelle in southern Haiti was to replace this old school.  With help from last year's Christmas Appeal, they have built and furnished a new one and are running it with proceeds from the grist he first priority for rural Cotterelle in southern Haiti was to replace this old school.  With help from last year's Christmas Appeal, they have built and furnished a new one and are running it with proceeds from the grist mill, also funded.       Photo: ICKL
Christmas Appeal 2012: Save My Place
For small, vulnerable communities, the Christmas Appeal provides vital funds to make their needs become real.  Last year the Institut Culturel Karl Lévêque (ICKL) helped this community replace their old school with a new four-roomed building. Christmas Appeal funds also helped purchase a grist mill which the community runs to provide the income the school needs to keep going.  The government cannot afford even to pay teacher salaries.  In the midst of war, poverty and natural disaster our partners are depending on your support this Christmas more than ever.  Support the 2012 Christmas Appeal to raise the money they desperately need.
"Once again, on behalf of the entire team ICKL and those of our partner organizations, I extend our gratitude for this mark of attention and solidarity from the staff of Christian World Service." Muller Pierre-Louis
Haiti: Hurricane Sandy
Reporting after a visit to local groups, ICKL noted the devastating impact of Hurricane Sandy on top of earlier storm Isaac.  The work "becomes increasingly urgent. Because people need not only humanitarian assistance but also psychological. Unfortunately we are at the end of the year and resources are very limited."  The hurricane destroyed 70% of crops in southern Haiti, and more than 64,000 farm animals were washed away.  The death toll reached at least 69.  Rising food prices and short supplies are making life more difficult.
WCC Visitor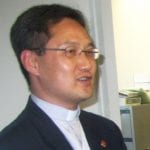 Rev Dr Kim Dong-Sung, the Asian Secretary of the World Council of Churches spoke at a CWS hosted reception in Christchurch.  He was interested to explore how Christians are responding to the earthquakes and how the ecumenical community could best support them through prayer.  The work that the WCC is doing in response to the economic and environmental challenges was of particular interest to those attending.  The WCC is asking if "we are enslaving ourselves to Mammon" and has begun work to develop a Greed Line to sit alongside the global Poverty Line.  Read more and listen to his interview with Kim Hill here.
Dr Kim also invited New Zealanders to attend the WCC's 10th Assembly to be held in Busan, South Korea in 2013 with the theme God of Life, lead us to Justice and Peace.  The new six part study resource, Pilgrimage to Busan: A Journey into Ecumenical Christianity is now available.
Gaza and Israel Escalate
ACT Alliance members are working in Gaza even as airstrikes continue.  The situation is extremely dangerous, and Christian leaders are calling for prayer and global action to stop the attacks that have claimed over 110 lives and injured many more.  The humanitarian need is desperate.  ACT Alliance is ready to deliver food, water, shelter, medical and psychological assistance as conditions allow.  Donations can be made through the ongoing Palestine Appeal.
Later this month the UN General Assembly is due to consider an application by Palestine for non-member status.  CWS is writing to the government supporting this bid as a means to focus attention on renewed action for peace.
Syria
General Secretary John Nduna recently visited Syria where ACT Alliance members have helped over 200,000 displaced people in the 20 months of fighting.  He called for an end to the violence and respect for humanitarian and human rights law as growing numbers of people are displaced.
West Papua
CWS joined Caritas and six other groups to write to Foreign Minister Murray McCully urging him to pressure the Indonesian government to investigate raids on student dormitories at the University of Cenderawasih in Jayapura in October as well as other arrests of Papuans.  Signatories also asked the NZ government to call for renewed dialogue with Papuan leaders.
Sudan
Humanitarian access to dislocated communities in Sudan's South Kordofan and Blue Nile provinces is of growing concern as fighting and instability continue.  CWS and Caritas wrote to Murray McCully asking him to raise the situation at the UN.  There is a steady increase in refugee numbers to neighbouring countries and growing hunger—81.5% in the Sudan People's Liberation Movement controlled areas survive on one meal a day.  Journalists, international monitors and aid agencies are banned from these areas.
World AIDS Day
The Ecumenical Advocacy Alliance of which CWS is a member has produced worship resources for World AIDS Day on 1 December.
Gifted: E Gifts now available
Go global with your giving this year.  You can send a brand new e-gift and save postage and effort, or a traditional card with a magnet.  Choose a gift that gives twice: once to the recipient and once to a partner group overseas helping families out of poverty.
Christmas Appeal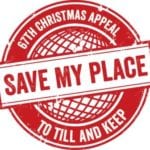 The 2012 Christmas Appeal  features  CWS partners working to save land and livelihoods.  They are working in local communities to help families and communities earn more income, hold on to their land and resources.  This year CWS aims to raise $550,000.  For more information or a speaker please contact Mandla at 03 3669 274
About Update
Update provides news, information and stories.  Reproduction of items is encouraged with attribution from CWS.  The current and back issues are available.