Download as PDF or read text below
FOR YOUR DIARY
25 November     International Day for the Elimination of Violence against Women
27 November     Advent Sunday and launch of the 66th Christmas Appeal.  Plant seeds of reality, hope and dignity this Christmas.  Resources available now from CWS and http://christmasappeal.org.nz/
The Right to Eat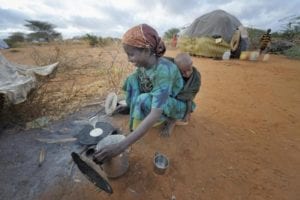 The threat of hunger is an everyday reality for one out of seven of the world's population and yet providing food is seen more as an act of charity than as something guaranteed by the Universal Declaration of Human Rights.   The Right to Food was a key focus of the global Churches' Week of Action on Food coordinated by the Ecumenical Advocacy Alliance of which CWS is a member.  There is growing recognition that the fight against hunger is also a guarantee of human dignity.
For EAA's Food Campaign Coordinator Christine Campeau attending the Committee on World Food Security's 37th session, "the global food crisis is not so much a technical problem that can be fixed by technical solutions alone, as a political and moral problem whose solutions lie in creating a more just and accountable world food system."  The volatility of food prices was the specific focus of this global event.  Further material on CWS's food campaign will be available shortly. A new report Right to Food and Nutrition Watch 2011 is available.
Tuvalu appeals for water and prayers
Rev. Tafue Molu Lusama, General Secretary of the Ekalesia Kelisiano Tuvalu appeals "for your prayers as we face this critical [water] challenge due to Climate Change. EKT is trying to do what it can to assist the people most affected, and we need you to stand with us in our efforts." "On Wednesday afternoon the 28 September, the Tuvalu government declared Tuvalu to be in a state of emergency due to water shortage as a result of the long drought that has hit us hard for the past four to five months.  Most severe are the southern islands of Nukulaelae which is experiencing a difficult time with water shortage and local food as well. The coconut tree tops have started falling off, breadfruit trees are dead, banana plantations are dried up, and even the traditional pulaka pits are rotten all because of the drought. Here on the capital Funafuti, the government has sealed all the water catchments on the island and whatever little water that is left is rationed to all people at a ration of about 20 litres per household." The NZ and Australian governments have sent up relief supplies.
Making Aid Effective
New Zealand aid is proving less than effective according to the latest OECD report on aid effectiveness.  According to the latest information from the Council for International Development of which CWS is a member, "New Zealand had met just 2 of its 11 targets for implementing the Paris Declaration (international agreement to improve and monitor aid delivery), putting it into the bottom quarter of donors for 2009-2010. NZ scored the second lowest of OECD countries in aid predictability, with only 56% of scheduled aid disbursements reported as disbursed in 2010.These results warrant a wider discussion and provide a strong basis for NGOs to advocate for greater attention by the Government to meeting its commitments under the Paris Declaration targets.
On the positive side, it is pleasing to see that NZ continues to provide untied aid, at 97% for 2009 and that a solid 63% of NZ's country analysis was coordinated with other donors."  The next meeting on Aid Effectiveness will be held in South Korea on 29 November—1 December.  In 2010 aid levels fell to 0.26% of Gross National Product according to the Green Party.  Contact CWS for election material.
Palestinians Very Vulnerable
A new report from the World Bank expressed concern about the high level of donor dependency in the West Bank and Gaza Strip and the vulnerability of residents. International assistance in Gaza had  doubled in 2009 but 71% of Palestinians received "at least one form of social assistance".  In Gaza unemployment declined from 49.5% in 2007 to 33.7% in 2009, but this improvement is fragile and unsustainable, based on increased donor aid. The report noted the 'comprehensive restriction on movement and goods' and the 'near total separation between the West Bank and Gaza' 'resulted in a highly fragmented and distorted economy.'
ACT to speak for the Climate
With extreme weather ravaging developing countries, the importance of decisive action at the December round of UN climate negotiations becomes urgent.  There has been little progress on an extension to the Kyoto Protocol to provide a legally binding agreement to address aspects of climate change.  CWS is supporting the ACT Alliance campaign for climate justice.  General Secretary John Nduna will lead the ACT delegation.
Asia Floods
Seasonal flooding is causing widespread disaster in parts of India, Pakistan, the Philippines,, Cambodia, Thailand and Vietnam.  ACT Alliance members and other partners are responding with relief supplies but the need is great.  Please remember those affected and responding in your prayers.
Pakistan needs More Help
Two months after large scale flooding Christian World Service is appealing for more help in Pakistan's Sindh province.   Many of the 8.9 million people affected in Sindh and Balochistan remain at high risk of hunger and disease, but global fundraising efforts are falling short.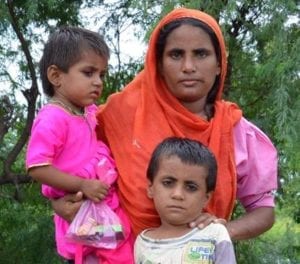 "The unmet needs in Sindh are a tragedy waiting to happen," said Allan Calma, deputy director of Church World Service Pakistan/Afghanistan's (CWS P/A) disaster management programme, reacting to calls by the United Nations that more must be done by the international community to assist Pakistan's survivors.  The UN's appeal for Pakistan is only 18 per cent funded signalling serious shortfalls in coming months.
For 28 year old survivor Jannat and her family delivery of a tent, blankets and food packages by long term CWS partner, CWS P/A offers hope.  They will survive in the short term.  Her husband Haider used to sell vegetables in Mirpur Bathoro but their livelihood, belongings and home were washed away.
"We need help to have a place of our own. We have lost more than just our house; we lost things inside our house and our space." Jannat explained that they do not have the money to rebuild their house or replace household items.
"God give me the strength so we can rebuild our house to be able to live the life we were living previously. My entire house has collapsed along with some of our belongings that have gone underground with it. My house had two rooms and was made of mud," she continued.
"The cost of slow response is greater suffering and losses," according to CWS P/A staff.  The CWS Pakistan Appeal remains open.
About Update
Update provides news, information and stories.  Reproduction of items is encouraged with attribution from CWS.  The current and back issues are available.