Here is a chance to show refugees that you are willing to give them a hand.
There are two ways to do the challenge.  One is by eating refugee rations for 5 days (or 2 if you are a student) – we send you the rations.  The other is by walking or biking a set distance over 5 days.  You can do the challenge anytime between now and September – but we encourage you to participate with others on Saturday 10 August – Friday 16 August 2019.
Download the Kete with everything you need to know.
Join others to raise much-needed funds for people who have fled Syria and are living in Jordan and Lebanon.
We want to raise as much money as we can so more refugees have food, education and medical care.
For eight years we have kept the lifeline going.  We cannot stop now.  Will you join us by signing up for Operation Refugee?
Sign up and create your own fundraising page.  Once you have raised $87 – the amount it costs to distribute a good quality food parcel to a family of 6 that will last for 15 days – we will send you a Food Box.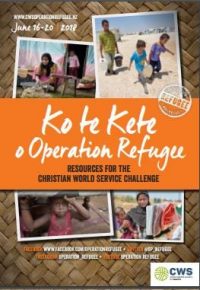 Operation Refugee 2018
Thanks to everyone who took the challenge and raised much-needed funds for people who have fled Syria and are living in Jordan and Lebanon.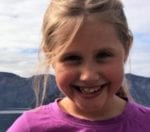 "I'm glad I did Operation Refugee even though it was very hard."  Maia 
Aged 9, Maia was the youngest participant.  She decided to do the challenge because CWS supports communities and organisations in partnership.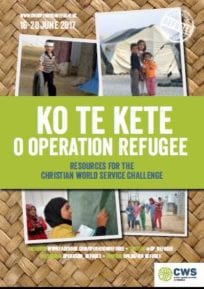 Thanks to 140 people who took part and more than 1,000 people who gave their support to Syrian refugees in our fundraising effort.  You can read more in our final report.
$55,900 has been generously donated to so Syrian refugees could get food, education and medical care.
The full five-day experience ran from 16 – 20 June.  Students registered for the two-day Operation Refugee Lite.
The Kete contains the guidelines and lots of tips for the challenge.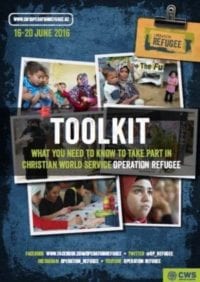 Operation Refugee 2016
Thanks to the 73 participants in the 2016 Operation Refugee Challenge during Refugee Week in 2016.  Together they raised $38,872 by July 15 to give refugees food, medicine, education and support.  Read the Operation Refugee Report to find out how they found it and how the money will help Syrian refugees in Jordan and Lebanon.  You can donate to the appeal and help many more refugees.
Operation Refugee was based on the successful Ration Challenge developed by Act for Peace in Australia.  Live on the rations of a Syrian refugee and raise funds so more people can get the food they need to survive.  Ask everyone you know to sponsor you – $87 will provide food for a family for 15 days or more.
The rations are based on the food that a Syrian refugee family receives for five days.  We will send you the rations (minus rice) and you will commit to raising $500.  We are looking for 100 people to join Operation Refugee for 16 -20 June2016 to get help to refugees in Jordan and Lebanon.
More than 4.8 million people from Syria have registered as refugees.  Large numbers are choosing to head to Europe hoping for new opportunities.  Agencies are cutting rations and refugees are going deeper into debt to survive.  Life is getting harder and there are no signs of peace.
Many people are responding to the needs of refugees but much more needs to be done.  We need your help to keep hope alive for refugees who need food, shelter, medicine and education.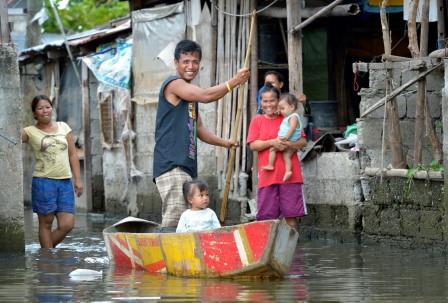 Live Below the Line 2014
It's not too early to start thinking about Live Below the Line.  This year the challenge will run from 6-10 October.  You get to live on $2.25 for five days and everyone else sponsors you. Live Below the Line creates awareness and raises funds for some of the 1.2 billion people living below the global poverty line. They will give up, in order to help raise more people above the line.
This year our fundraising efforts will go to Developers Foundation in the Philippines. When Typhoon Haiyan struck last November, 94-98% of the homes in the remote area where Developers works were badly damaged or destroyed.  As a local organisation, Developers had the skills and community relationships to help. With a CWS grant, they provided corrugated iron roofing to protect people from continuous rain. Now the priority is rebuilding more disaster-proof homes, and replacing farming and fishing equipment so families can rebuild their livelihoods.  Developers will replant organic rice, supply and breed animals and basic accounting skills. With your help, locals will have enough food and income to meet their needs.
Sign up to Live Below the Line with CWS and start your campaigning.
Read the new Field Guide to find out more about the challenge.
Once you've signed up, tell your friends, family – absolutely everybody. Encourage them to sign up or to donate. The more the merrier. Tell people face to face, organise a $2.25 dinner party, host a youth-group event – be creative about how you raise awareness and raise funds! Use social media to let people know about the challenge and how well you are doing.  Share your experiences with us on Facebook or Twitter
Money raised will help people in the Philippines who need new homes and livelihoods.  Please contact Grace Manning to find out more.
Live Below the Line 2013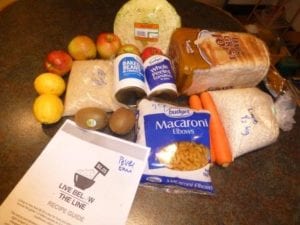 Michael Earle's rations for the 2013 challenge.
Thanks to all the good people who have participated in Live Below the Line!  Well done to those who met the challenge of living on $2.25 a day and thanks to all those who supported and encouraged them.  It is not too late.  You can still take the challenge until the end of October.  Contributions will also be gratefully accepted.  Check it out.
Spending $11.25 on food for five days (23-27 September) gives participants a lasting reminder of what life is like for hungry people.  It is an event organised by young people who are committed to ending the poverty that keeps 1.2 billion of the world's people in hunger most of the time. This year participants are raising funds for the Women's Development Resource Centre (WDRC) of India, where 217 million of the world's hungry people live.
Elizabeth Duke and Elizabeth Thompson, co-clerks of the Quaker Yearly Meeting are writing Running Notes on their experiences.

Why should I support CWS?
There are more partners this year for Live Below the Line but we ask you to support CWS.  The money you raise will support the WDRC in its amazing work to help Dalits (sometimes known as untouchables), Tribal (indigenous) and Gypsy communities out of poverty and participate in their own communities.  For groups that were ignored and denied basic human rights, this is progress.
What do you need to do?
Promote this idea to your friends and family – you get to eat better with a group.  Register on line and find sponsors.  Let us know how it's going.
What will you learn?
For 5 days in September along with thousands of people across New Zealand you will spend just $2.25 each day on food.  The daily experience of poverty will be a talking point and an opportunity to remind people it is not fair that 1.2 billion are lucky if they have this much to live on each day.  It will be tough and the food will be boring but you will know that what you don't eat will help many more people realise their right to food.
How will you help?

The funds you raise will help Dalit, Tribal and Gypsy people stand up for their rights and have a say in how their communities are run.
•    Sustainable livelihoods: credit unions, a women's bank, cooperative organisations/unions for better wages and conditions for flower workers, rubbish collectors, scavengers, crematorium workers, and employment for women
•    Consultations on major issues like women's occupational diseases and hazards, global warming and violence against women.
•    Teaching eco-friendly agriculture practices to small and marginal farmers
•    Training for Dalit and tribal women's movements and for local government
•    Working with men and women to strengthen gender equality and awareness.
•    Promotion of women's health and rights.
•    Campaigning for rights of Dalit and Tribal peoples and access to government entitlements
•    Help Dalit and Tribal children have better education, more opportunities and understand their rights.
Give it a Go.  Sign up here.
Living below the Line  –  Running Notes
We are Elizabeth Thompson and Elizabeth Duke, living in Dunedin.  Quakers have been encouraged by our Peace and Service Committee to sign up for Living Below the Line via CWS, so we decided to try.
One difficulty we meet is that, for various reasons of health and principle, we eat as far as possible organic and Fair Trade food, which costs more.  One major advantage is that we live in a house with an established garden, and have plenty of self-rooted and self-seeded vegetables, with several fruit trees and bushes.
Our initial planning has been something of a shock.  We think we eat moderately, mostly vegetarian with some fish, and a meal out perhaps twice a month.  But the more we costed and planned for these five days, the more we had to cut out to get anywhere near $2.25 each per day.  We are stocking up with home-made yoghurt, hummus and rewena bread (made from a potato base), and seconds of fruit from the Farmers Market.  Not included in the costings are the rates we pay on our house and 1/8 acre section, electricity for stove and freezer, and the car trip to the Farmers Market for bulk buying.  People living on $2.25 per day don't have these things.
So here we are on Monday morning poised to start.
23 September 2013
Wednesday morning
So far we are not feeling hungry, though missing many things we enjoy.  We planned the time by working out our five evening meals, which we take turns to cook.  These are mostly vegetables from the garden.  After subtracting the cost of other ingredients, and of vegetable plants not perennial or self-seeded, we were left with $1.96 each per day for other meals.  On Monday evening we had roast root vegetables with Egyptian onion and rainbow beet leaves, on Tuesday leek baked with yoghurt and breadcrumbs, and more vegetables.  The original yoghurt base was given us, and has made many jars, so milk is the basic cost.
ED:  I have replaced tea, coffee and other drinks with tea from mint or other garden herbs.  On Tuesday morning I had the slight headache which I know as caffeine withdrawal; it goes away if you ignore it.  Five toast slices of good bread per day have been replaced by four thin ones from a budget wholemeal loaf, with some homemade crabapple jelly (half a jar for the five days), and a thin slice of cheese or hummus with garden salads at lunch.  The jelly is made with apples from a tree planted before 1980, so (excluding electricity) the whole cost is sugar. Two apples and 75ml of yoghurt are the rest.  The vegetable evening meals are the most filling.  All in all I am eating much better than the many many people on or below survival level in whose honour we are undertaking the exercise.  This week I am marmalade-making, and have so far resisted the temptation to scrape the pans and lick the spoon.  I have a cafe loyalty card which is due for a free drink, but think it would be cheating to use it.
ET: Before we started I was very aware of the poor in the world but my focus has become far more self centred.  At times I have had feelings of martyrdom which I then chide myself for having. What I am coping with is the norm for so many not only in the wider world but also here in A/NZ. I too am not hungry but I am missing having fruit and nuts and sometimes comfort food. There are times in the day I usually have them. I had not realized I was such a creature of habit!
25 September 2013
Thursday morning
Another privilege we have realized is that of being retired, which gives us enough time to make our own hummus, yoghurt, jam, bread and the like.   Our third evening meal was savoury pancakes (cost of one egg, flour, milk and cooking oil) filled with garden vegetables, plus rainbow beet leaves.
ED  On Wednesdays, after visiting a friend in a retirement home, I often have lunch in the café there.  This time I took sandwiches, and as the weather was cold and drizzly, I went into the café lounge, but felt embarrassed at not buying anything.  This would be a perpetual factor for those whose incomes don't allow for any purchased meals.
Friday morning
Though we are not suffering at all, we are definitely looking forward to Saturday, and have laid in some kumara and bananas in preparation.  Thursday's meal was stir-fry vegetables with boiled potatoes.  We heard from a couple of friends who had taken part last year, and prepared for this time by bulk buying and taking advantage of specials in advance.  As they said, on a low income you can't do this.  Another younger friend had his birthday during the week, and saved himself an apple as a special treat.  He is definitely hungry, but cheerful.  He remarked on the number of conversations his involvement in Live Below the Line had stimulated at work.  We found the same; it became a topic in conversation after the Quaker Meeting, and again at the Green Party branch.
ED  Though I will be very glad to return to my favourite foods, I find that what I miss most is the variety of hot drinks.  It has struck me that our exercise is unrealistic in yet another way; our garden just wouldn't supply vegetables in quantity to keep us going for long.  We would by now be experiencing the spring hunger before the new crops come in.  I have lost a bit of weight, which is welcome.
ET  I am glad it is Friday and do look forward to not having to put in so much thought before eating, yet that's a reality for the poor. I find my thoughts have become far more self centred away from the purpose. Fruit, when I want it, will also be welcome. We do intend repeating next year – somewhat heartened knowing hearing that it is easier second time around. I will want to do it at a less busy time though. It has taken our thoughts from other issues.
27 September 2013
Saturday morning
Five days below the line are over.  We don't intend to spend today on chocolates and champagne, though do plan to indulge in fish for this evening's meal.  Looking back at our diet, it didn't leave us hungry, but over the long term would probably be deficient in some aspects, such as protein, dairy, Omega 3 oils, and various vitamins and trace elements.  We found a few cents not accounted for, which go to carrot seed and (we think) more cooking oil than we had calculated.
ED  It is salutary to be now considering as treats the things I am used to eating regularly, such as good bread with a variety of grains, Vegemite, cheese, eggs, tea, coffee, milk, ample fruit.  By the end of yesterday I felt that if necessary I could have gone on with the diet for longer, though I would have grown very weary of the worthy potatoes, Jerusalem artichokes and parsnip.  If we had been less well supplied from the garden, and become actually hungry, I think I would have had more emotional involvement with those who live on less.  I remain very much aware of world poverty and inequality, though I don't feel it in my gut (literally).  Live Below the Line has been a powerful exercise in sharpening my sense of relative and absolute privilege, and my commitment to do what I can by donations and action to relieve current need and to urge political change, nationally and globally.  I certainly intend to take part next year.
ET.  Yes,  I too intend doing it again next year and do feel it was a very worthwhile, humbling conscious and conscience raising time.  I am much more aware of the reality of those who have less than me. One thing that I was very aware of was the time taken to make the most of what we had. For those always living on little must in rather different ways also be spending time finding the food and stretching it. I did lose about 1.5 kg too!
28 September 2013
Live Below the Line 2012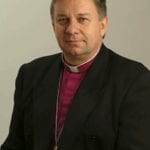 "This experience made me realise what hunger can do, even for a short time, as well as how richly a number of us live most of the time. The week strengthened my resolve to be part of hunger relief and aid agency fundraising in the future having actually felt what it was like, as well as a wakeup call to the fact that too many New Zealand school children share a similar experience as we have learned from recent child poverty research."
Archbishop David Moxon, 2012 participant
Thanks to the 32 supporters who raised almost $9000 by supporting Live Below the Line with CWS in 2012.  The money they raised went to young people grappling with poverty and conflict in Maridi, South Sudan.  Recovering from decades of war, they are rebuilding their country from the ground up even as conflict continues in border states.
The Maridi Service Agency run by young people themselves made real progress with help from Live Below the Line participants. Last year 114 of 122 students from the High School they set up successfully sat final exams and 16 passed the Ugandan exam. 280 newly returned refugee children attended their 3 nursery schools.  24 students completed a computer training course with 7 finding immediate employment.  MaridiFM runs 16 hours a day and is a key mechanism for education on health and political involvement.  Promoting better agriculture has led to a 50% cut in food prices and better food security.  MSA also ran HIV/AIDS awareness programmes.
Live Below the Line 2011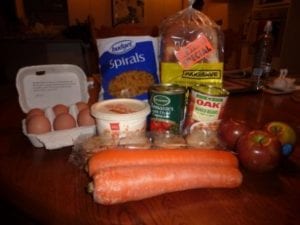 Congratulations to the 15 individuals, families and teams who took on the Live Below the Line Challenge with CWS.  Living on just $2.25 a day for food was tough going.  They went without to get an idea of what it is like for the 1.4 billion people who live on less.
Live Below the Line was organised by the Global Poverty Project from 22-26 August.  Each of the group sort sponsorship for their efforts for the 5 days.   They raised $7750 which will directly help the Maridi Service Agency in South Sudan (see below). Nationally 350 people took part and together they raised $112,000 for the 5 organisations working to end global poverty. CWS has been impressed by the energy and their efforts of all those who took part.  You can still contribute by going to the Live Below the Line and choosing one of the heros fundraising for Maridi.  Follow the link and choose a hero raising funds for Maridi at: http://fundraise.livebelowtheline.co.nz/event/livebelowthelinenz/sponsor_a_friend
Report from the Frontline

What Devashini ate

Devashini Devanandan reports:
"Living Below Line was a great experience. It was definitely a challenge, as it was during the last week of the first half of 2nd semester (which involved a few tests to study for!) but I'm glad I took part, and am very happy with what I've raised for CWS.
I went shopping and bought: a packet of pasta, a loaf of bread, a tub of margarine, 6 eggs, can of tomatoes, can of baked beans, 2 carrots, 3 apples and a packet of cookies. While I didn't find myself feeling too hungry, I found five days without my daily coffee and tea very difficult (I fell asleep during my 8am lecture!). Towards the end of the week the lack of variety in my meals was making me feel quite lethargic. Not having the freedom to choose what to have for lunch/decide to go out for dinner with friends really made me think of poverty not being a matter choice."