Stories for Change
The quarterly Christian World Service newsletter features stories from our partners.  They are working in local communities to turn violence, poverty and injustice into real change so people have their rights recognised and a say about the things that shape their lives.
Latest issue: Summer Story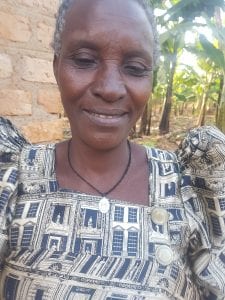 Rhoda (pictured above) knows the change possible with clean, safe water.  Only a few years ago collecting water for her household could take most of the day.  A grandmother now 78, she cares for five grandchildren orphaned by AIDS.  Having her own rainwater tank has changed their lives, allowing the children to go to school and more time for chores.  With their own water, the family has been able to stay clean and keep their distance from others during the pandemic.  She gives thanks 'for generous hearts' that gave the gift of water.
Specioza (pictured right) is excited because her turn has come.  Work has begun on her tank, and she is looking forward to being "liberated from all forms of water suffering".
Read the Summer Story to see how you can help during the pandemic and change lives forever.  Please support our Summer Appeal for Water.