Stories for Change
The quarterly Christian World Service newsletter features stories from our partners.  They are working in local communities to turn violence, poverty and injustice into hope.
Latest issue: Grow a Garden to Survive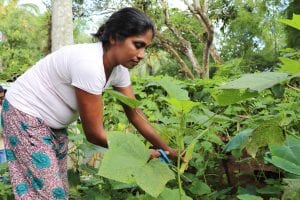 Dhammika (pictured right) tells the story of how she can now feed her family.  She has transformed her home plot into a rich source of food for in rural Sri Lanka and is now an active member of MONLAR.  Through the Covid-19 pandemic, she has relied upon her garden and now happily passes on seeds and advice to other families worried about hunger.
Read the Spring Story to see how you can grow a garden of hope for a family facing hunger.  Please support our Spring Appeal.