Seven Weeks for Peace
CWS invites you to pray for peace with us through the seven weeks of Lent, an initiative of the Lutheran World Federation.  The campaign was launched on Ash Wednesday with a focus on Ukraine.
This week we pray for Afghanistan:
Loving God
We pray for peace in Afghanistan
The peace that means families have bread
That children – boys and girls – can go to school
That people can walk safely on the streets where they live.
Loving God
We pray for peace in Afghanistan
The peace that can take away fear, so people do not have to flee their homes or seek refuge in neighbouring countries and are not killed for protesting the treatment of girls, women or ethnic minorities
The fear that makes people so afraid of those who are different that they must attack, kill and deny them food
The fear that there is no future.
Loving God
We pray for peace in Afghanistan
The peace that shares food and shelter with those who are hungry and homeless.
The peace that cries out for justice and for life.
The peace that is not afraid to push for human rights and provide sanctuary to those in need.
Loving God
We pray for peace in Afghanistan
Let us not forget to offer our prayers and support to the people of Afghanistan – today and every day
We pray in the name of the One who is the source of life and peace
Amen
#7weeksforpeace.
Download Slide for Sunday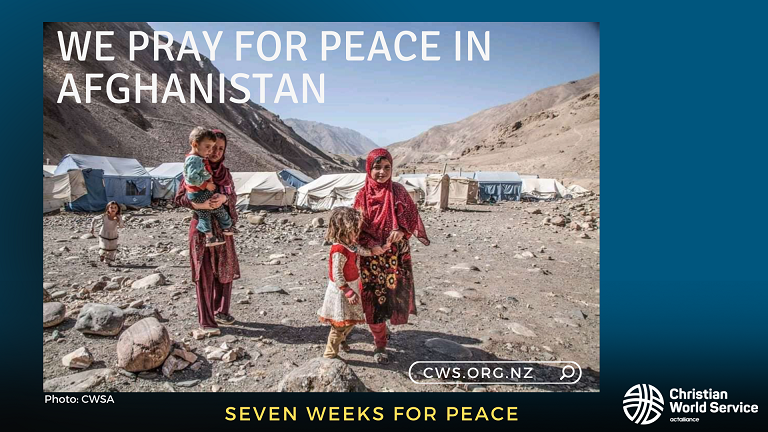 A Difficult Life
Last year your donations to the Afghanistan Emergency Appeal helped Roina (names have been changed) and other mothers with a monthly cash grant of approximately NZ$153 for three months.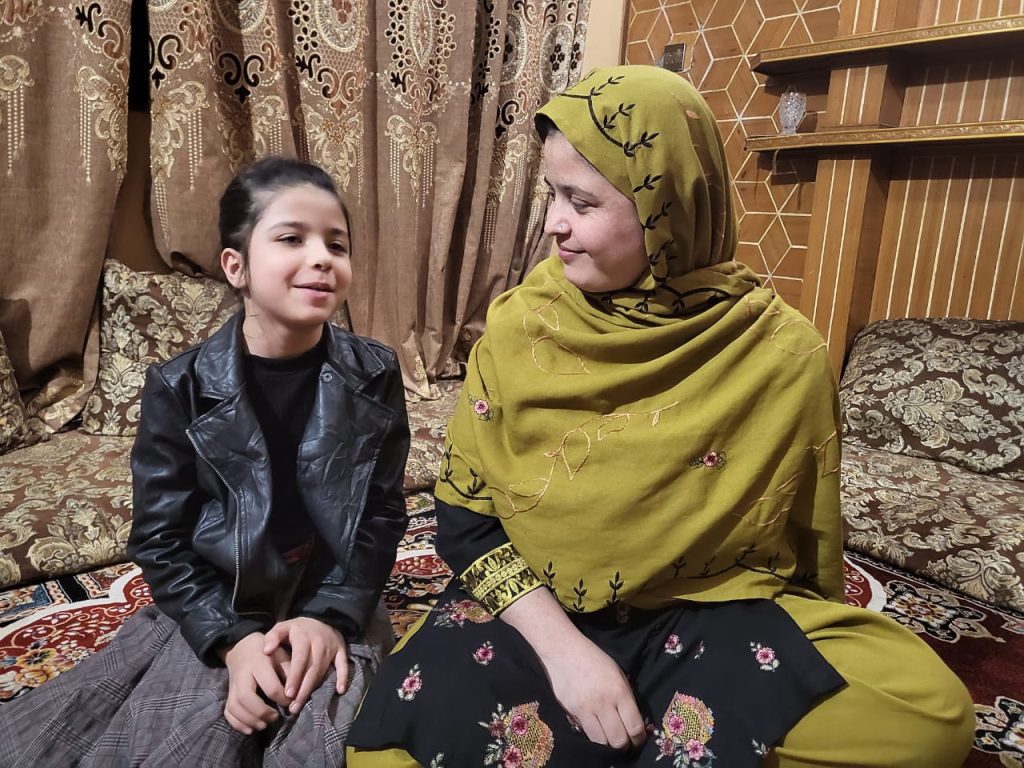 "I was able to buy some food supplies with the money I received from Community World Service Asia.  This will last for a few months. The family who was supporting me financially for all this time was unable to sustain their help so this cash assistance came to me at the right time," says Roina.
Roina's life has been difficult for as long as she can remember.  Born in Afghanistan 29 years ago, she grew up in a family where her father forced her mother to work as a maid to support the family while he did little.  He married his daughter off when she was still a teenager.
Her husband who worked in a pharmacy and had some land turned out to be as abusive as her father.  Roina lived in constant fear until he decided to divorce her in 2016.  She supported her daughter Zainab by selling embroidery and sewing, but when her in-laws sought custody of Zainab and harassed her relentlessly, she fled to Pakistan.
Soon after her arrival, the mother and daughter were involved in a car accident.  Roina's left arm was amputated.  Fortunately, the owners of the car covered her medical costs and continued to provide financial support until last year.  For the moment they are still providing the family with a one-room house rent-free.
She can no longer sew and wants to find a job so she can become financially independent.  Because of her disability and lack of refugee documents, this will be challenging.  Roina prays that she can start work soon and provide a better future for 9-year-old Zainab – who she sees as her only reason to live.
Thanks to Community World Service Asia for the story and images.
Donations to the Afghanistan Appeal will provide further cash assistance to refugees in Pakistan through our partner Community World Service Asia.
March,3, 2023