The global COVID19 pandemic is spreading fast.  People are anxious and afraid.  Many people do not have good information about the virus and how to protect themselves from infection. Older people and those with chronic health conditions or who do not have enough to eat are most vulnerable.
Experts warn a vaccination is at least 18 months away.  We must act on a global scale to prevent the virus from spreading.
Help people stay safe, donate now.
Hand washing and social distancing are key strategies to protect families.  Yet 2 out of 5 people around the world do not have basic handwashing facilities.
In refugee camps and crowded homes or neighbourhoods, there is nowhere to self-isolate.  Many people already lack clean water and soap.  They have limited access to medical care or reliable information.
Lock downs have forced workers to return to rural villages without pay or food and often on foot.  Others cannot reach their fields or have no work at all.
In many countries, health systems are weak and medical treatment expensive.  The poorest people are likely to be the most vulnerable.  Our partners are already working with them and are preparing to distribute food, health information and protection, and comfort.
At a time like this they need our help.
Please donate to the Coronavirus Emergency Appeal today.
Our partners are close to their communities.  They have distributed food and medical supplies to people with no resources.  Many are now in lock down but they are keeping in touch, sharing news, correct medical advice and offering support.
3.68 million people have been infected.  At least 254,199 people have lost their lives.  215 countries, areas or territories have been affected.  (WHO May 7)
Our Response
In the Middle East the Department of Service to Palestinian Refugees is providing critical support.  Staff are worried refugee families will not get the rations promised by their governments.  They are working from home to support Iraqi, Palestinian, Syrian refugees at a distant.  Their educational programmes have closed.
In Gaza, the three Primary Health Clinics are open with special hygiene regulations.  In Jordan, the two Medical clinics are running, essential services during the lock down.  They are preparing to distribute emergency food parcels and hygiene kits as soon as they can across five regions.
$100 will buy  enough personal protective equipment for one staff member.
$100 will buy an emergency food parcel (including dried legumes, canned food, jam), hygiene kit (including soap, shampoo, hand sanitiser, disinfectant and gloves) or cash vouchers for a family of 6 for one month.
$390 will pay for psycho-social group sessions or individual counselling to help people already traumatised cope with new anxieties in Gaza.
$1,150 will pay for two tons of feed for small cattle herds.  Bedouin farmers living on the West Bank are unable to take them to pasture.
More donations mean DSPR can reach many more refugees.  Please help if you can.
Refugees help Refugees
When Syrian and Palestinian refugees realised that life was going to be so much harder with COVID19 in Jordan, they knew they could help.  In November 2019 they had planted gardens in two green houses built under the guidance of the Department of Service to Palestinian Refugees.  They grew zucchini, cucumber, tomatoes, green beans, and leafy vegetables such as lettuce, rocket, parsley and more.
No longer able to cook the food in DSPR's kitchen because of social distancing, they made up 150 food parcels ( including vegetables and other goods from the kitchen for the poorest families in the Al Husn Camp where they lived.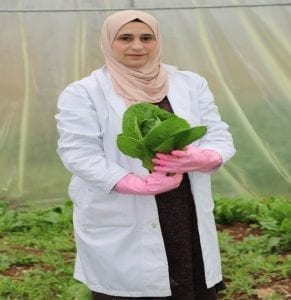 Volunteer Abeer (pictured) who had 30 years' experience as an agricultural engineer is part of the team.  She was excited to be able to put her knowledge and skills in what she loved to do the most – training women in small scale farming.  The women learned how to run small businesses at the DSPR training Centre.  The women used some of the vegetables in the production kitchens. "We started producing all kinds of food, pastries, and sweets and managed to organize local Bazaars which was a good start for small income" said Abeer. Even schools, families, medical centers, and other institutions inside the camp started ordering from our group.
Thanks to DSPR Jordan for this story