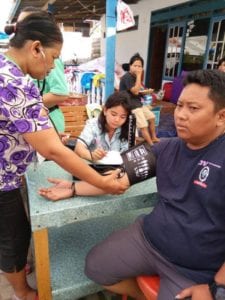 On September 28, a 7.4 magnitude earthquake followed by a tsunami caused widespread damage on Indonesia's Central Sulawesi.  308 aftershocks have been reported.  So far 2,045 people have died and 2,549  received severe injuries.  The numbers will rise.  More than 82,775 people have been displaced and 2.4 million affected.  67,310 houses have been damaged.  Around 191,000 people need urgent humanitarian assistance.  Aftershocks continue and there is a danger of landslides and liquefaction.  In Sigi most damage has been caused by landslides.  Malaria, schistosomiasis, cholera, dysentery, and other diseases are a real risk.
Survivors need urgent assistance.  ACT Alliance Indonesia members are involved in rescue efforts and have begun relief distribution. The first medical team arrived in Palu on October 1 after queuing for 7 hours to enter the city.  The team consists of 2 doctors, 1 midwife, 1 psychosocial specialist, and 5 volunteers.  They distributed tarps, bottles of water, and instant noodles as well as referring some of the injured to the hospital for treatment on day 1.  Local staff are distributing water sourced from the municipal water company to 4 villages in Sigi Regency who had not received water.  A truck carrying tarps, rope, sleeping mats, blankets, water bottles, hygiene supplies, a generator, fuel, a water pump is due to arrive from south Sulawesi.  A second is on its way with more hygiene supplies and cleaning materials.  The trip will take 24 hours.  ACT Alliance is appealing for support for more shelter materials, healthcare, water, sanitation,psychosocial care, protection and education.
The Indonesian government has said it will not allow foreign humanitarian workers.  Local ACT Alliance Indonesia members are delivering aid in Palu, Donggala, Sigi and Parigi Moutong.
Picture: Day 1 – Medical staff examine first patients on the grounds of the Grand Mosque, Palu. Credit: YEU
CWS is asking for your support so they can assist with food, hygiene kits, shelter, safe drinking water, sanitation, and medical care.  They are undertaking a rapid needs assessment and will coordinate their work with other agencies.
Please support the Indonesia Earthquake Tsunami Appeal so we can get help to the survivors.
Banner Image: M A Seryawan/Yakkum
Donate Today!
Your donation will support local ACT Alliance Indonesia members to provide food, water, medical care and other support to earthquake and tsunami survivors.  They will be matched by a grant from the NZ Government,
Give them a hand!