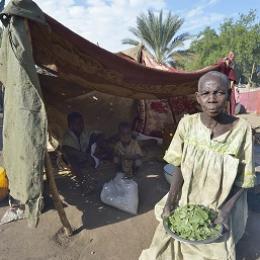 Violence and hunger ever-present in South Sudan where rounds of negotiations have failed to broker a lasting peace.
Four and a half years of fighting have left more than half the country – 7.1 million people in need of relief aid. 2.6 million have fled to neighbouring countries. 1.7 million are displaced within the country,
Last year sustained support stopped famine from spreading. This year the crisis continues with many people remaining extremely vulnerable.
With your help, we can distribute emergency food and commodity vouchers in Unity and Northern Bahr el Ghazal states. People can get tools, plants, and seeds to displaced people. ACT Alliance South Sudan is also improving water supplies, building latrines and provided sanitation and hygiene supplies. Maridi Service Agency is helping new arrivals plant gardens and set up businesses in Maridi and helping neighbouring communities who have been attacked and lost everything.
If you can, please help now.
Conflict continues to intensify in South Sudan. Unable to plant crops or raise animals, they are dependent on diminishing sources of wild foods and relief aid. Funds are needed now to keep people alive and help establish new livelihoods.
More than 1 million South Sudanese have sought safety in Uganda where ACT Alliance is providing food, shelter, water, and education as funds allow.
CWS invites you to participate in the Global Day of Prayer to End Famine on Sunday 21 May, 2017.  More than 20 million people are at risk of famine in Nigeria, Somalia, South Sudan and Yemen.  WCC has prepared worship resources available now. CWS has produced a bulletin insert for the South Sudan Appeal.  Please join us as we pray and share what we can to people on the brink of starvation.
Araj shows the wild leaves she has gathered for her family sheltering in the Episcopal Church compound in Wau along with 5,000 displaced people.  Photo: ACT Alliance/ Paul Jeffrey
On 21 February UN agencies declared famine in parts of South Sudan – the first since 2011.  Some 100,000 people in Unity State are facing starvation and a further 1 million are on the brink of famine.
The lack of rain is the last straw after three years of conflict and insecurity that have left the economy in ruins and forced 3.4 million to flee their homes.
According to Wadalla Peter of our partner the Maridi Service Agency which has not been hit by drought conditions, people are finding it harder to afford food as prices skyrocket.  Many families in Maridi are eating only one meal a day and sometimes none.  The situation is much worse in the famine areas.
Maridi Service Agency is helping when it can with emergency food and helping single mothers set up small businesses like tea shops.
ACT Alliance is deeply committed to vulnerable communities in many parts of the country and among refugee communities.  They are providing food, digging waterholes, running schools, distributing tools and seeds and assisting with shelter as part of a comprehensive relief effort.
Please support the people of South Sudan
Tens of thousands of South Sudanese fled their homes after a new round of fighting broke out on 7 July, 2013. People are arriving daily and UNHCR reports their are now 1,712,979 refugees in neighbouring countries.  Severe underfunding is making the response challenging – UNHCR reports only 20% of its budget has been met.   Hundreds of people were killed around the capital Juba and earlier in Wau. Peace agreements between President Salva Kiir and former vice president Riek Machar have proved unstable.  Machar is now believed to be sheltering in Sudan.  Civil war started when fighting broke out in December 2013. This flare up is the latest in a string of outbreaks.
Millions of South Sudanese need food, water, sanitation, shelter and protection.  Can you help now?
The combination of war, widespread corruption and the near collapse of the oil industry that provides 98% of the country's earnings are proving disastrous for local people.  The constant threat of violence, frequent attacks, rape and widespread uncertainty mean crops have not been planted leaving 4.8 million people in need of food.  Insecurity has displaced more than 1.6 million people, half of whom have fled to neighbouring countries.
More than 795, 771 South Sudanese have arrived in Ugandan refugee camps since December 2013.  ACT Alliance is managing the Elegu border crossing where thousands of people arrive each week.  90% of the new arrivals are woman and children.  According to their reports from South Sudan militias continue to burn houses, murder, rape, and force men and boys to join in the violence.
Our partner Maridi Service Agency in Western Equatoria is assisting people displaced by the fighting.  In August former vice president Riek Machar and forces loyal to him made their way to Sudan through the province, making the normally safer region very dangerous for residents.  CWS will support MSA and ACT Alliance to do what needs to be done to save lives – water, shelter, sanitation and food.  ACT Alliance is providing relief and livelihood support as well as funding and other assistance to churches deeply involved in peacemaking work at every level.