The fragile peace between the government and some of the opposition force are supporting the revitalised peace agreement. On February 15, 2020 President Salva Kiir and Riek Machar signed a new peace accord, breaking the deadlock in negotiations after the 2018 agreement.  The deal has almost ended six years of conflict, though some opposition forces have refused to sign.  There is a three year transition period and Machar has been sworn in as one of five presidents.
Appeal for Newly Displaced People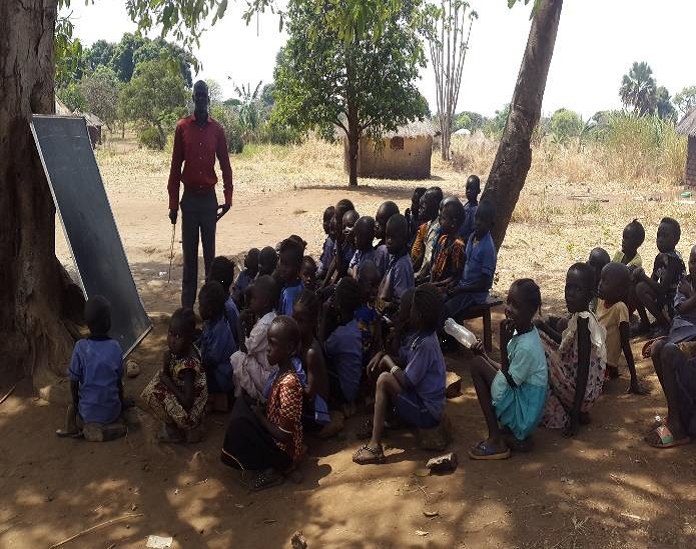 Families urgently need food, water, shelter, medicine and education.
Local partner, Maridi Service Agency is asking for assistance for nearly 12,000 people who are seeking refuge nearby.  They have fled conflict between the government and the National Salvation Front (NAS).  The Front is based in Central and Western Equatoria and is not party to the peace accord.
The attacks began at the end of 2019.  The NAS abducted 88  people, burned homes and looted the local health centre. In fear, the people fled arriving with nothing.
Many have been absorbed into existing camps in Lalama, Muku and Hai Karakpa- Maridi has welcomed waves of displaced people.  Some have found accommodation with relatives but most lack adequate shelter.
There is not enough food, medicine, water or schools for the new arrivals and the host community who were already running short.  Without extra support, it will be hard to get through the dry season.
They need food, clothes, tents and shelter materials, sleeping mats, soap, towels, tools for gardening, water (repair water holes) and sanitation, psycho social and medical care, and schooling for the children.  Note: Already many classes take place outside under a tree (pictured).  The children have no school materials.
The local community are sharing what they can but there is not enough to go around.  Already families are surviving on one meal a day, relying on wild foods or feeding only the small children.
Most of the new arrivals have already been displaced at least twice.  It is not safe to return while the conflict continues.
Please help them if you can.
Situation in South Sudan
More than 4 million people were displaced by the fighting and last year more than half the 12 million people needed humanitarian assistance.  It is hoped that some can return and reestablish lost livelihoods but they will need help.
Maridi Service Agency is helping displaced people plant gardens and set up small businesses like tea stalls and shops.  They are part of the local response to help those in need as well as running schools and training programmes, MaridiFM (the only local radio station) and the only HIV testing clinic.
If you can, please help now.
ACT Alliance is helping in other parts of the country and among refugee communities.  They are providing food, digging waterholes, running schools, distributing tools and seeds and assisting with shelter as part of a comprehensive relief effort.
Please support the people of South Sudan
Millions of South Sudanese need food, water, sanitation, shelter and protection.  Can you help now?
The combination of war, widespread corruption and the near collapse of the oil industry that provides 98% of the country's earnings are proving disastrous for local people.  The constant threat of violence, frequent attacks, rape and widespread uncertainty mean crops have not been planted leaving 4.8 million people in need of food.  Insecurity has displaced more than 1.6 million people, half of whom have fled to neighbouring countries.
More than 1  million South Sudanese have arrived in Ugandan refugee camps since December 2013.  ACT Alliance is managing the Elegu border crossing where thousands of people arrive each week.  90% of the new arrivals are woman and children.
CWS are supporting the Maridi Service Agency and ACT Alliance to do what needs to be done to save lives – water, shelter, sanitation and food.  The South Sudan Council of Churches is deeply involved in peacemaking work at every level.