CWS gives thanks for the life and contribution of Rev. Barbara Stephens, National Coordinator from 1986-1994.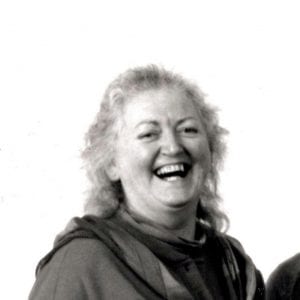 Barbara lead the organisation through a period of significant change, drawing on her learning and experience of working as the Education Secretary for the Christian Conference of Asia.  In Asia she encountered emerging theologies that explored faith from places of suffering. Moved by the reality of families living on rubbish dumps or marginal land, displaced and indigenous peoples, and the plight of women ignored and exploited, she worked with local Christians and peoples of other faiths who took up their need for justice.
Returning to Aotearoa with a sharpened structural analysis and a more political theology, she helped the organisation think differently about what she often called the 'aid business'.   She was highly critical of a charity model that involved doing good for those less fortunate.  Instead she worked from an understanding of poverty as a result of unfair structures that depended on the exploitation of the poorest people for cheap labour and the land and sea for their resources.  Aid was about redistribution from an unjust system and about letting the people decide their own future.  At the same time New Zealand nongovernmental organisations negotiated a new funding scheme with the Ministry of Foreign Affairs that enabled CWS to develop local partnerships rather than fund the appeals of the World Council of Churches.
In response to challenges from new leadership in the South or Developing World, there was a greater emphasis on participation and self-determination, especially the place of women. The WCC held major consultations on aid and to one of these meetings Barbara took maps of the world, showing the southern hemisphere on top.  When participants were confronted with these maps one morning they could immediately see what was at stake.
Barbara introduced consensus decisionmaking and emphasised learning within CWS.  More importantly, she worked hard to help New Zealanders understand what was happening in the world and encouraged people to see the links between poverty and exploitation here and overseas as primary to faith.  Her strong commitment to justice was matched by her faithfulness to the church, especially to the Church of Christ into which she was ordained, the Methodist Church and the ecumenical movement.  Under her guidance, CWS first developed its theological rationale, Partnership and Letting Go as a basis for its work.
"Barbara was passionate about understanding and challenging the causes of poverty and injustice, overseas and in Aotearoa New Zealand.  She was outspoken in her commitment to women, indigenous people and those who she saw as marginalised by the current system.  She has a major place in the history of CWS.  Barbara modelled what we stand for not only in word but also in deed," Pauline McKay, National Director.
She was one of the first three women deaconesses ordained as a Church of Christ (now Christian Church) minister and more recently served as a presbyter in the Methodist Church.
Barbara died on 18 December, 2020.
A memorial service for Barbara will be held on Sunday, March 21 at 1pm in Durham Street Methodist Church, Christchurch.
January 26, 2021