For generations, fishing families have lived in harmony with the sea. Changes in the coastline, over fishing and climate change are undermining their traditions and livelihoods. CWS partner the Legal Aid to Women Trust is standing up for the ocean and the rights of fish workers.  Note: Kattumaram in the foreground. Photos: CWS and LAW Trust.
Let's Stand up for the Ocean
India's fish workers are calling for urgent action to protect the sea, the source of life. Muthamizh selvi (pictured below) comes from a long line of fish workers who have lived on the coast of Tamil Nadu for generations. She grew up watching fishermen paddle out to sea on kattumaram (the Tamil origin of catamaran), simple craft made from logs bound together. Others would fish in the inland lagoons or dive for crabs. When there was no fish, families gathered seaweed and shellfish to sustain them. The sea has shaped their lives in many ways.
Now she is 48, the sea remains the source of life for her family, but her husband can no longer catch enough by himself. Fish stocks have declined and access to the sea is more difficult. Many other fishing families have been forced to move inland but Muthamizh selvi plans to stay.
If she could have given up the coastal life she would have done so after the terrible cyclone in 2015. Heavy rains activated the six major rivers that cross the low-lying Cuddalore region where they live. For most of the year the rivers are dry but during the monsoon season they fill up and this time they caused widespread flooding. When the water could not reach the sea, it destroyed their home, fishing boat and equipment.
Fortunately for Muthamizh selvi, the family of five found shelter at a local community hall. One organisation that came to help was our partner the LAW Trust (Legal Aid to Women). She remembers the time Gandimathi stayed with them for 45 days, organising food and other supplies for the affected families. While the government helped with housing, it was LAW Trust that gave a tarpaulin for shelter, a cooking stove, pots, eating utensils and an emergency light.
Eventually they received some compensation from the Fisheries department, but it was LAW Trust that helped them find a way forward. Muthamizh selvi attended a business training course on cooperatives. The women learned how to process and dry fish as well as make snacks and pickles with fish and prawns. LAW Trust provided capital and equipment for the new cooperatives to start their own businesses and set up a microcredit scheme for members.
Through the micro-enterprise groups, women could supplement what their husbands earned working on fishing vessels, repairing nets or labouring to support their family. Because hunger is the only alternative, they have to keep fishing.
Eventually Muthamizh selvi and her husband borrowed money to buy their own boat and nets. She goes fishing with her husband at night whenever she can. If she works with him, they can earn four times as much. When they get home they process the fish to sell the next day. With loans to repay and income to earn, there is little time for sleep.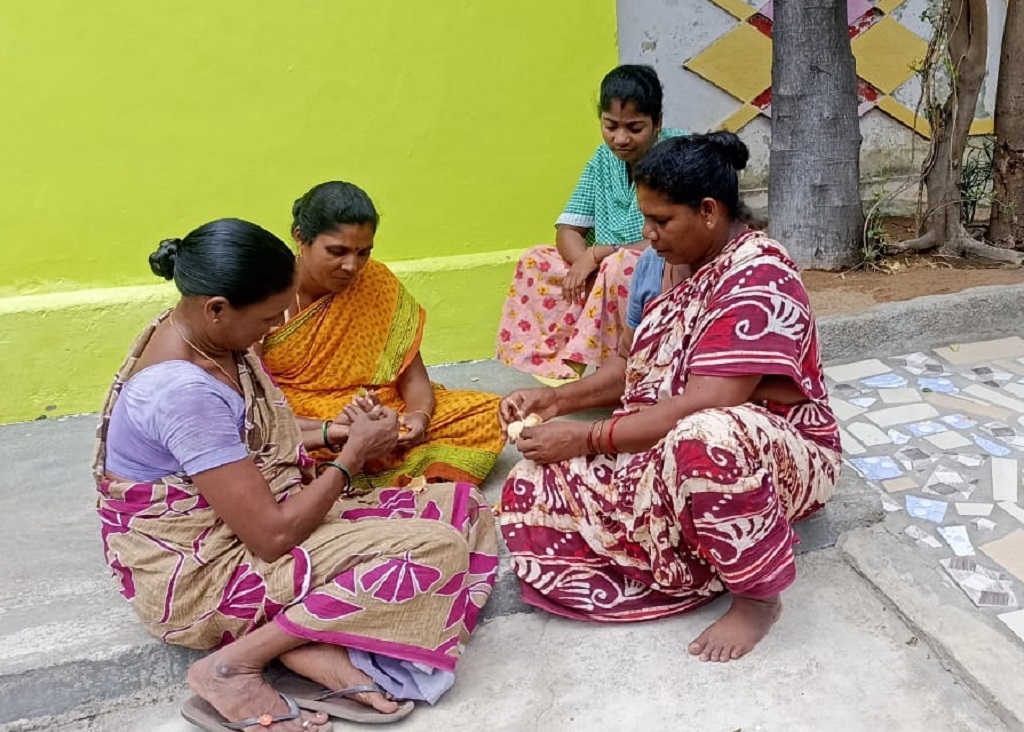 Muthamizh selvi (pictured far right) shows other members of her cooperative a new weaving technique. Working together, the women earn more income and support each other.
Changes on the Coast
Muthamizh selvi has witnessed huge changes in the fishing community and the landscape of the coast. Modern vessels catch many more fish with fewer workers than traditional boats. In the north large-scale shrimp farms block access to the sea, forcing people to find work from their communities. The South Asia tsunami in 2004 devastated the area. Coastal fishing communities have been replaced by massive power plants, chemical industries and an oil refinery, blocking even more of the coastline and polluting inland waterways. Seawalls and groynes have increased coastal erosion and the sea level is rising with climate change.
Muthamizh selvi is a seafarer, a vendor and a leader of her community. It hurts her to see the way the coast is being treated and she wants to reclaim the coast and the sea for the people. Along with other fish workers she has campaigned for its protection and for their traditional rights of access to the water. Young people collect and analyse changes in the environment (morphology) to use as evidence in legal cases mounted by the Coastal Action Network, an initiative of LAW Trust.
Muthamizh selvi wants to end poverty on the Tamil Nadu coast and is constantly on the lookout for new business opportunities for fish workers. She finished school after standard one but wants to start their own financial institution and a community college. If the fish workers have their own bank, they can save on the high interest payments demanded by moneylenders and cut overheads. Young people won't have to leave the district if they can attend a local community college.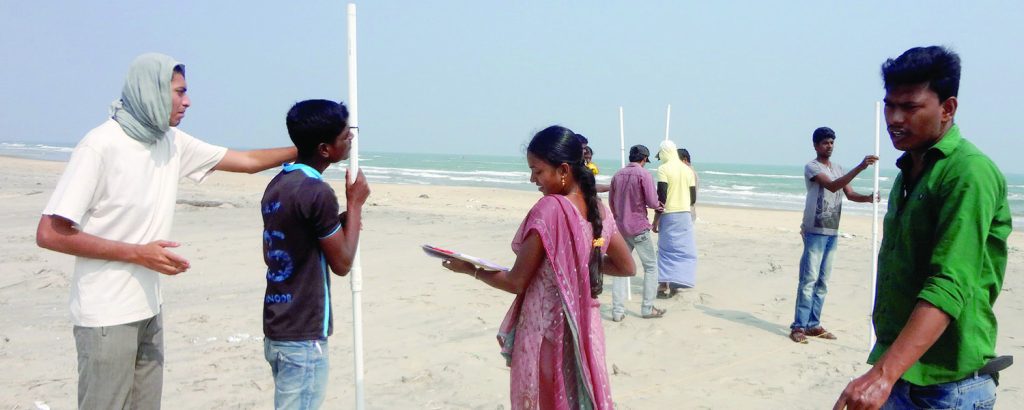 Young people measure and record the morphological changes regularly. The results are analysed and used as evidence to support legal cases to protect the coast and its peoples.
Your gifts to the Ocean Appeal will help women fish workers stand up for the ocean and improve their lives.
The title of this story comes from a song. Watch the video that features footage of Tamil Nadu fish workers.
CWS welcomes new National Director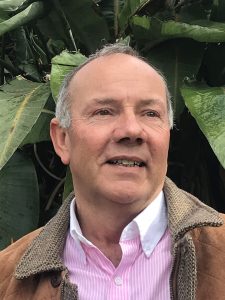 CWS is pleased to welcome the Rev Dr Tim Pratt as its new National Director. Tim was the lead chaplain at the University of Auckland. Before that he worked as the chief executive of the Interchurch Council for Hospital Chaplains and the Global Fellowship of Global Youth. He begins his new role on August 28.
"I am excited to be partnering with you in directing our faith towards tangible actions that address the vulnerabilities experienced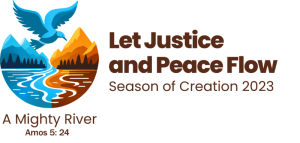 by both people and our planet. I look forward to meeting with you in the weeks and months ahead."
Season of Creation
Celebrate the Season of Creation from September 1 to October 4.  Resources and information.
Read as a PDF.
Help fish workers feed their families and protect the coast
Please help people who need practical support.
Your prayers and gifts will enable our partners to help fish workers run their own businesses and care for their families.  They can make their voices heard as they work with others to uphold their rights and protect the ocean.
Please support our Ocean Appeal:
$55 could fund business and vocational training for members of women's cooperatives.
$157 could pay for six months data collection and scientific monitoring of the beach profile to use as evidence in legal hearings.
$523 could fund the costs of a leadership and business training course for representatives from women's cooperatives.