Life is Now Easy
Last week Charles Rwabambari made the four hour motorbike trip from the Centre for Community Solidarity office to Katembe to report to you on what difference a rainwater tanks in Uganda.
Specioza lives in Katembe, a small community in Uganda's southwest.  In 1985 her husband died from AIDS.  Later her two children died from the same virus.  She is caring for four of her eight grandchildren and one great grandchild.
You cannot imagine the joy Specioza feels now she has a new rainwater tank, almost full of fresh, clean water.
"The assurance of having clean water, especially at my homestead, is such a great joy," Specioza says.
Until a month ago Specioza and her grandchildren gathered water from a rock tank.  The water was brown and it sometimes made them sick.  Collecting water took around two hours but when that dried up, they had to trek down the hills to the borehole – a seven kilometre round trip.  Little time was left for chores and the children often missed school.
"This made me and others permanently poor. Without clean, easily accessible water, we have been locked in poverty for generations. Children drop out of school and we caregivers struggle to make a living," lamented Specioza.
Fortunately, she is a member of the Katembe local association of caregivers of families of HIV and AIDS orphans.  Each month she puts aside a little of the money she makes into their savings scheme.  CCS has trained local people to build the tanks – a CWS grant pays half the cost of the tank.
Specioza told him:
"Fetching water from the rock tank or from the borehole was a messy, time and energy consuming, and conflict-ridden process.
"Right now, getting water from this tank is easy and quick. All I need to do is just come with the container I need to use to fetch water and simply turn on the tap and water will flow.
 "God heard my prayers to be among the lucky ones to get a tank this year. Praise the Lord the tank is finished and God's blessings have brought the rains earlier than usual. Now clean water is here at my homestead. Life is now easy,' says Specioza.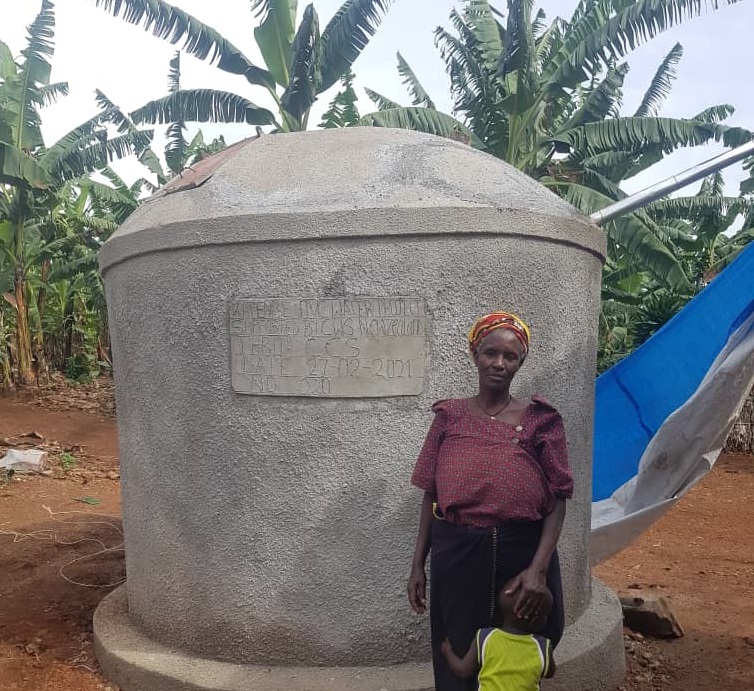 "This water tank will help me achieve so much success because there is plenty of clean water to drink, wash, bathe, cook. Secondly, my family is liberated from the burden of walking long distances, the burden of drinking dirty water, the quarrelling and fights at the source of water. They will get the opportunity to attend schools on time to improve their future. Having clean water in the home makes everything clean; the sanitation standards in my home have gone up.
"As we depend on farming, I will get time to concentrate and attend to my garden, look after my two goats and water my plants every day – unlike before when I would waste a lot of time looking for water. As a woman, I am happy and my life has been made easy.
Thank you for your unselfishness, care and love you have for us we, who could not have managed to put up such a facility and save our vulnerable people," she concludes.
"Extend our most sincere heartfelt gratitude to all the generous friends from CWS who support CCS to support us. May the Almighty reward them abundantly," says Charles.
There are now 56 happy families of children orphaned by HIV and AIDS.  Thanks to your gifts and the rains that have come early, they have fresh, clean water on tap that is also a protection from Covid.  In the next few weeks 19 more will have tanks.  Thank you for the change you have helped make in Uganda.
March 7, 2021