We invite you to attend the Christian World Service Supporters' Council and Christmas Party
4:30 – 6 pm, Tuesday, December 14, 2021
Wananga Room, Aldersgate Centre
309 Durham St, Christchurch or by Zoom
'Pasifika Talanoa'
Speaker: Rev. James Bhagwan, General Secretary, Pacific Conference of Churches (by Zoom from Fiji)
All welcome
RSVP by Thursday, December 9 and/or Register for a Zoom link for the Council meeting: cws@cws.org.nz or phone 03 366 9274.
All people entering Methodist buildings must operate under the Vaccine Pass system. If you come to this event you will need to show your vaccine pass or vaccination certificate.
The entrance to the Aldersgate car park is from Chester Street West.
Programme Details
Please join us for all or some of this programme.
4.30 pm – Arrival and Sign In
Please wear a mask and sign in/scan in on arrival.  Present vaccination pass/certificate.  Online participants to sign in via Zoom. We will send the Zoom link with a meeting reminder shortly.
4.45 pm – Welcome and Introductions
4.50pm – Overview of 2020/2021 and the new CWS Strategic Plan
5.00 pm – Guest Speaker: Rev. James Bhagwan (via Zoom) – Pasifika Talanoa
5.25 pm – Q & A
5.30 pm – Drinks and nibbles for those in Christchurch
*Subject to change if there are additional Covid restrictions
Supporters Council
The Supporters' Council is made up of partner churches, organisations and individuals committed to the vision, values and objectives of Christian World Service and who have provided financial support for CWS work in the past two years.
The annual review is available here or as a hard copy at the meeting.
About the Speaker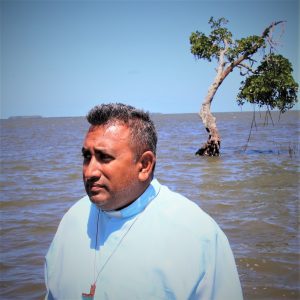 James Bhagwan is the General Secretary of the Pacific Conference of Churches and an ordained minister of the Methodist Church in Fiji.  He returned last month from the COP26 negotiations on climate change where he advocated for Pacific peoples.  Rev Bhagwan holds a Bachelor of Divinity from the Pacific Theological College and a Masters in Theology from Korea.
PCC was formed in 1961 and currently has 30 member churches and eight councils of churches in 18 countries and territories across the region. PCC's priorities are Climate Change, Self-Determination, eradication of Gender-based Violence, empowerment of youth and building better relations between faith groups.
December 8, 2021