Andrew and Anna were at home with their children when Cyclone Judy struck Vanuatu on March 1.  Anna was cooking Tanna Soup for dinner as the winds got stronger.  As soon as the first piece of roofing iron went flying, they fled with their children and parents to a small cave nearby.  Two days later a second category 4 cyclone swept through – fortunately Anna and the children had accepted a ride from the Vanuatu Mobile Force and were now sheltering Evacuation Centre run by the Vanuatu Christian Council (VCC).
Their home was completely destroyed and their furniture and belongings were strewn everywhere.
"It was the first time I've experienced a hurricane like this. I didn't think that our homes would fall down," said Anna.
Almost a month later the family was still at the Evacuation Centre.  Thanks to new iron supplied by VCC, Andrew could begin rebuilding their home that had been destroyed in the twin cyclones.
"We should have returned to our homes [by now] but it's a real mess.  We don't have anywhere safe to shelter.  I didn't think that our homes would fall down.  When I came back after the cyclones, I saw that everything had been destroyed," added Anna.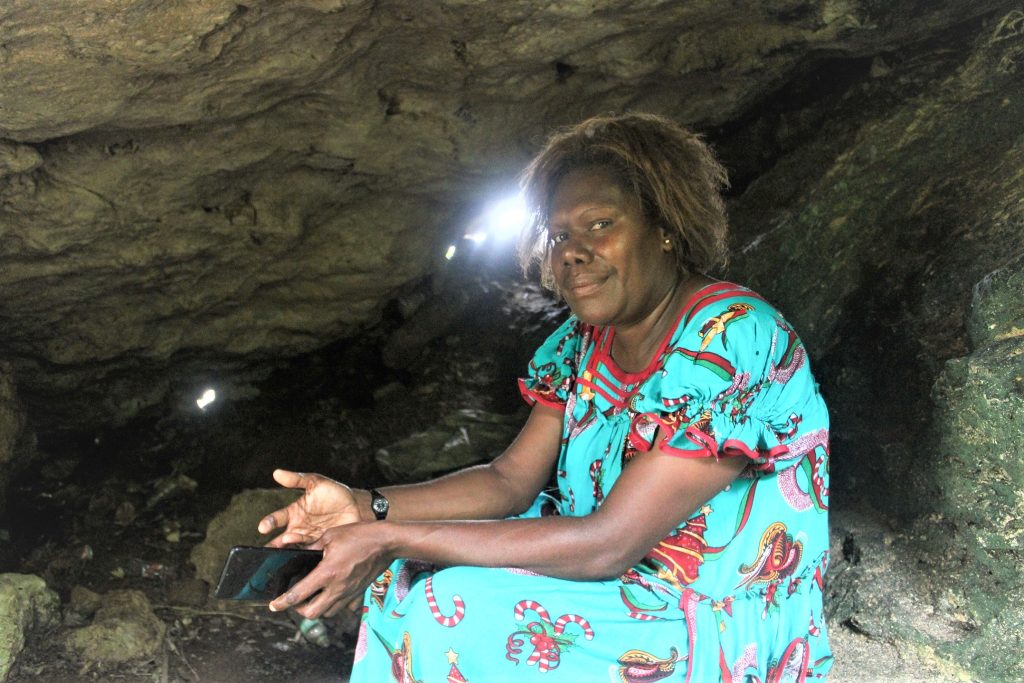 The small cave where Anna and her family sheltered was three minutes from their home.  Adults can not stand up in it.  Other families in her community sheltered in a larger cave that had less protection from the wind and rain.
The twin cyclones affected more than 271,000 people.
Disaster preparedness is one of the priorities of the VCC.  It has trained local people to make disaster plans for their communities to deal with the more intense disasters linked to climate change.
The National Disaster Management Office run by the government has allocated 18 communities in the areas of North Efate, Pele and Nguna for help from VCC.  Christian World Service is appealing for donations so families like Andrew's and Anna's can start again.
"Ni-Vanuatu need practical help and our prayers as they recover from this double disaster.  Families have lost their homes and livelihoods, sometimes for the second time in three years.  If you can, please support our appeal so they can replant their gardens and look after each other," says Murray Overton, National Director.
Donations will help communities repair and upgrade latrines and share hygiene information.  Local committees will distribute new seeds and tools to re-establish gardens, community seed banks and nurseries.  Work will also be done to raise awareness on child protection and the prevention of gender-based violence especially after a disaster when people are more vulnerable.  The Appeal will fund psychosocial support for people struggling to deal with their losses and help communities prepare for the next disaster.
Donate here or phone Jordyn on 0800 74 73 72.
April 20, 2023
Thanks to Benneth Bue, Vanuatu Christian Council and Sarah Boyle, Act for Peace for the images and story.  Act for Peace provided roofing iron and other materials for the repair.