People Make Communities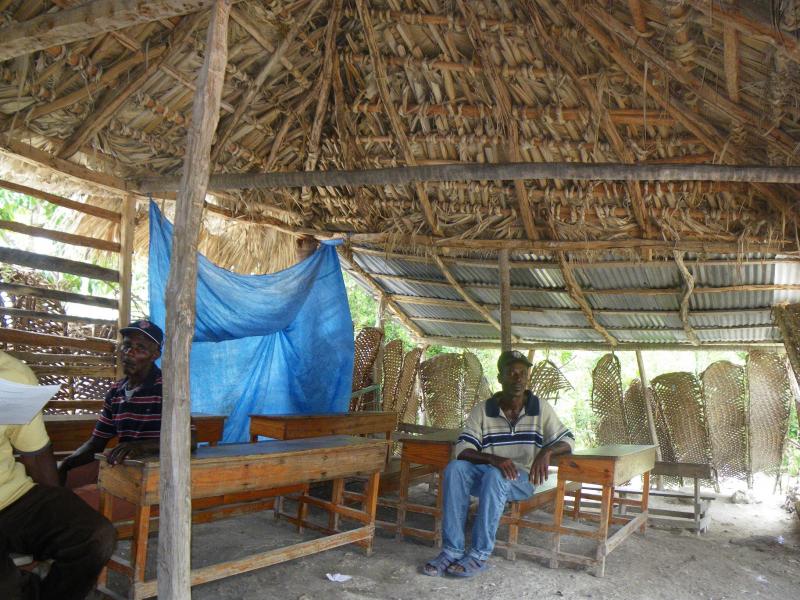 For a small community based group with an office wrecked by Haiti's earthquake of January 2010 recovery has been slow.   The earthquake was another extraordinary event in a long history of bitter poverty and violence to which the Institut Culturel Karl Lévêque (ICKL) responded.   Nearly three years later ICKL tells the story of the resourcefulness of people skilled in resilience – necessary in a climate where anything can happen.
Central to ICKL's work is the strong relationships they have with peasants and groups working on human rights as well as development priorities.  ICKL plays a crucial role in resourcing these groups with the training and skills they need.  Where possible it channels desperately needed funding to local communities.  A new four room concrete block school has been built in Cotterelle (near Jacmel on the south coast) to replace the one lost in the quake (pictured above).  New textbooks have arrived and more children are now making the most of the education through to Grade Six.  ICKL has run training for local teachers who serve on a voluntary basis – there is no funding for them.  But that is not all.  They have funded a grist mill for Cotterelle to earn vital income to run the school for the long haul.   In a country where the government operates only 15% of the schools, a self-sufficient school will mean education for one more community in rural Haiti.
Cotterelle is not the only village to benefit from this self-funding approach to education.  Belle Fontaine has a new bakery which means the people can buy local bread while generating funds to run two community schools.   In impoverished rural areas where the government offers no services, ICKL's intervention is strengthening the community's efforts to make life for themselves.
ICKL has also helped thirty families rebuild their homes.  For Jean Claude Sanoy and Clermise Joseph, ICKL's assistance in repairing their home flattened by the quake has been 'a great satisfaction for us'.  Sanoy is a farmer and a fashion designer living on a meagre income.  Their house and the farm's irrigation system were destroyed in the earthquake but they had no money to fix either.  Providing for their school aged family remains difficult but they are grateful to God that they now have shelter.
ICKL is part of a network of groups who are demanding a better deal for Haitians.  They are training locals to help rural people get birth certificates, protect their environment and prevent diseases like cholera.  In the first rush of the international response their voices were lost in the busyness of relief efforts, but they remained persistent in standing up for the poorest communities.
Fundamental to their work is an understanding that strengthening local communities can bring about the changes that have been long needed.  With government weak or invisible, it is community solidarity that will make the difference.  In a country desperate for foreign help, this is a new message but the one that means they can take control of their own future and develop the resilience that will help them manage through earthquake, violence and corruption.