Seven Weeks of Prayer for Peace
CWS invites you to pray for peace with us through the seven weeks of Lent, an initiative of the Lutheran World Federation.  The campaign was launched on Ash Wednesday with a focus on Ukraine.  In the second week we prayed for Afghanistan.  Today we pray for Ethiopia and South Sudan.
Loving God
We pray for peace in Ethiopia and South Sudan
For countries who have known conflict and hardship for too long
For peoples who live with fear and uncertainty
For families who pray for food each day.
Loving God 
We pray for peace in Ethiopia and South Sudan
For children who want to go to school
For parents who want to earn an income and put food on the table
For people who have been damaged by war and violence.
Loving God 
We pray for peace in Ethiopia and South Sudan
For a stronger desire to create peace than to make war
For an end to the violence and the use of weapons
For a new commitment to resolving conflicts and injustices by their governments.
Loving God 
We pray for peace in Ethiopia and South Sudan
We pray in the name of the One who is the source of life and peace
Amen
#7weeksforpeace
Download Slide for Sunday featuring Ethiopia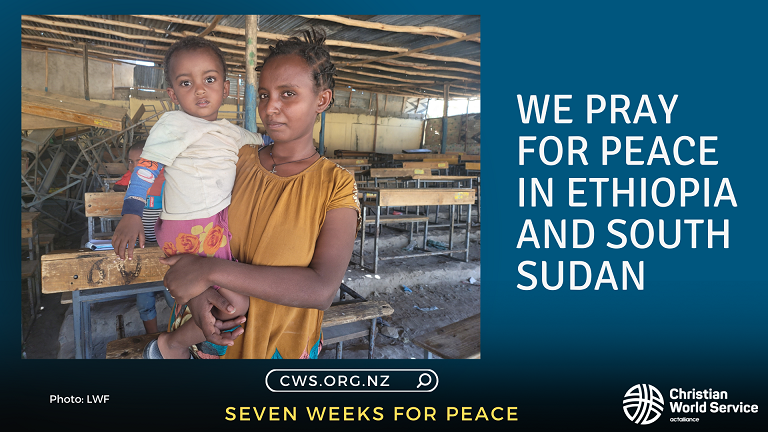 Image: A family from Humera sheltered in the city of Ayder in Ethiopia's Tigray region.  Photo Credit:LWF
Tensions escalated when the Ethiopian prime minister launched a military offensive on Tigray in November 2020.  The Tigray People's Liberation Front was a key player in setting up the current federal system.  People sought refuge across the border in Sudan.  Many were killed, raped and injured.  A peace agreement was reached in November 2022 but it remains fragile.   Fighting continues in Oromia in the south.
Donations to the East Africa Hunger Appeal will help families with emergency food supplies and other assistance.
Download Slide for Sunday featuring South Sudan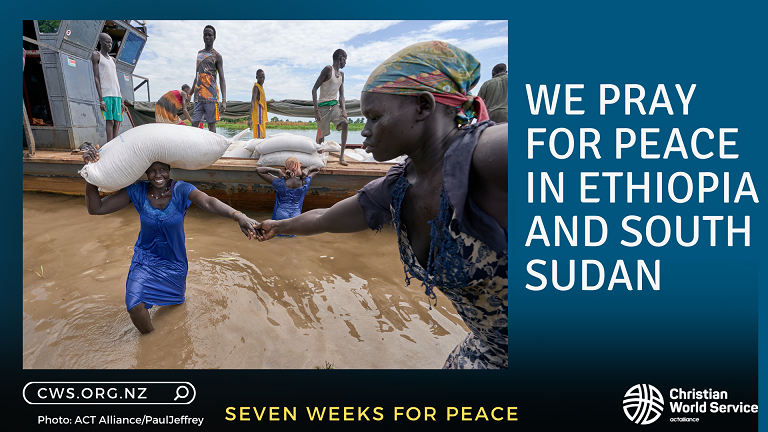 Image: Women unload emergency food supplies in Adobo, South Sudan.  The combination of flooding and conflict increased the level of food insecurity. Two people were hospitalised after the barge carrying much-needed sorghum was attacked in October 2021.  Photo credit: ACT Alliance/Paul Jeffrey.
Since gaining independence in 2011, South Sudan has struggled to deal with decades of conflict leading to independence and chronic underdevelopment.  A disagreement between the President and vice president in December 2013 led to five years of civil war, primarily along tribal lines but reaching across the country.  The fragile peace agreement is barely holding, as political leaders are slow to implement its provisions.  Some groups often based on shared ethnic or tribal relations have chosen to continue fighting.  An estimated 9.4 million people may need humanitarian aid this year according to the United Nations.
We partner with Mission for Sustainable Advancement to assist displaced people, provide educational programmes and schools, run local radio station MaridiFM, and a testing clinic for HIV and AIDS.
March 10, 2023