Thank you for the generous gifts to assist people who have lost their homes and livelihoods in Pakistan's floods.   Donations to the Pakistan Floods Appeal will help families survive with food and other assistance.
In response to an urgent request from our local partner Community World Service Asia (CWSA), we have sent an initial $40,000 to provide three monthly cash transfers or cash payments to some of the most vulnerable families.  This is enough to purchase basic foods -flour, cooking oil, pulses or beans, and salt – for a family of seven people for a month.
CWSA's mobile health clinics are providing desperately needed healthcare and it has plans to train local people to build disaster-resistant (elevated) homes to replace some of the more than 2 million homes that have been lost or badly damaged.
In recent days there has been a substantial drop in rainfall in the worst affected Balochistan and Sindh provinces.  Water levels are declining – in Sindh, most districts had dropped by one-third and some more than two-thirds.  Temperatures are also falling as the country heads towards winter.  Large areas remain flooded, and access remains difficult.  Water-borne and vector diseases like malaria are a major concern.
Many people are living in temporary situations with unsafe sanitary conditions – 950,000 household latrines were damaged or destroyed.  Medical care is limited or non-existent.  Malnutrition levels were already high in the affected areas and the situation is worsening.  Now the United Nations estimate 8.62 million people will be seriously hungry (in the crisis or emergency phases of food insecurity) between September and November this year.
Donate to families who need food, medical care and shelter.  Support the Pakistan Flood Appeal.
CWSA reports from Sindh province where an assessment team met Tejan and other women and their children from the Baloch tribe in early September: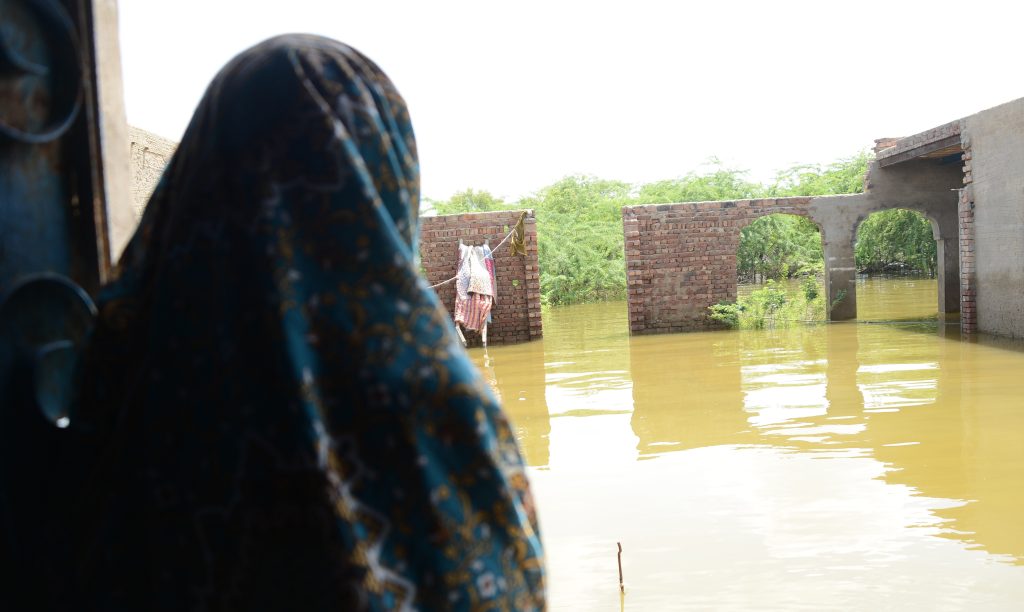 Once a sanctuary
"Some six hours from Karachi, we set foot on a wooden boat to sail through a village that was drowning in water.  A village that once was home to over 2,700 people and more than five hundred families. A village that once had green, fertile pasture and two neatly built public schools for the children.  A home that was no more.
After sailing for more than two kilometres through what seemed like a deserted ghost town with houses half submerged in water and nothing but mucky brown water under us, we reached a house that showed some signs of life. The only inhabited house in the entire village. As we carefully stepped out of the boat, directly into the house, we were warmly greeted with a smile and a hug by an aging woman. She was Tejan, the proud owner of this fairly large house with five to six rooms surrounding an open patio.
The floors were muddy, with standing water in most parts of the house.  On the patio some charpayis or traditional woven beds were covered with silver utensils lined up, like they were just washed. Tejan quickly commented, "We've just got done washing all the utensils". To which our natural question was how and with what were they washing their utensils and the clothes that were hanging freshly washed on the ropes in the courtyard.
"We use this water (pointing at the flood water settled around their house). This is the only water we have access to. We use it to wash clothes and to bathe. We try to keep it in the sun so that the dirt settles down first. We used to have a water reservoir (pointing at a water tank) but with the rains, it leaked and all the dirty water got mixed into it. So we have no option but to use this. We use it for cooking too."
We were soon joined by more women – young and old, living in the same house. Some six to seven families, all related presumably, lived in this once lively house. All the women were cheerful despite the experiences they had recently lived through and the conditions they were currently living in. These women, along with a few small children (a baby, one slightly older and a 13-year-old), were the only ones who had 'willingly' stayed back when the entire village was evacuated by army helicopters some three weeks ago. When asked why they had stayed back, they said they had to protect their home and their belongings and could not leave them to be taken away by the water.
After more casual conversation, it was revealed that this household belonged to a Baloch tribe, who are traditionally considered more conservative in this area.   Baloch women 'never mingle with men from outside their community'. It was due to this very reason that these women, along with most of their children and babies, were 'asked' to stay behind and protect their assets so that they would not be exposed to other men and other communities living in emergency camps or outside on the roadside (where many families of this village had temporarily settled).
Tejan is a widow and mother of eleven children, most of them married. Two of her sons live in this house with her. One of them, who works at a government office, returned to his job after the rains to ensure some of the family's livelihood remains. The other son, who relied mostly on their livestock and small agrarian garden, has temporarily settled on the roadside in a self-made tent with his children to get whatever in-kind support he can from government agencies, good Samaritans or charity organisations passing by.
Since the monsoon rains hit their village two months ago, Tejan's brother has been occasionally supporting their household – he sends in some dry food (like flour, lentils, sometimes milk) and water.  The water he sends is treated like "holy water", laughs Tejan. "We use it very sparingly as we know it cannot last all of us very long. I do not think my brother can also keep supporting us much more. His own house and lands have also been affected."
With increasing food insecurity by the day, the iron ladies of this house must ensure that the food they get from charity lasts long enough as they have no idea when the water around their house and in their village will recede, or when they will receive proper help and aid. They are living in constant uncertainty. The only hope they have is their prayer and the belief that help will come.
"We mostly eat one meal a day. That meal consists of some flour we cook together with chopped onions, chillies and rarely tomatoes (chutney). We cook all of it together because we do not have enough firewood or fuel so we cannot waste it on cooking roti and curry separately. The chai we make is not what we used to have before. Our chai was very good, now it's just like warm water."
"Many of us have not stepped out of this house since the floods. We stay here and look after the house and the little children. We do not let them go out much and have to guard them against the many snakes in the water that come into our house too. We have heard that a lot of the children in our village have also gotten sick. Moreover, a one-way trip costs 50 rupees or NZ $0.39 per person. We cannot afford this ride up to the road so we let our sons and men bring to us what we need and what they can bring," shared Tejan.
Skin and eye infections have become increasingly common among displaced residents of this village. Even the families living on the road cross through the water now and then and are exposed to all sorts of waterborne infections. Tejan confirmed that the younger mothers in her house needed health and medical support, especially the ones with small babies. They could not afford to go to the roadside in a boat, let alone travel some far distance to a hospital.
While proudly walking us through her house, Tejan stopped at a door. A door that once led to her backyard blooming with fresh vegetables. With tears in her eyes, she showed us how it was all under 8 to 10 feet of water. This house was once her sanctuary, a place she was proud of and where all her happy memories were lived. If given a choice, she would never leave this house but living in the current conditions was challenging. They were without clean water, food, clean clothes, a secure house and a livelihood. The walls of their house were leaking and most of their outer walls were totally damaged. The only thing still intact was their dignity and which they will not let go of.
Thank you to Community World Service Asia for the story and images.
October 3, 2022