Our work
CWS supports six partners in the eastern coastal state of Tamil Nadu who are:
Bringing Dalit and tribal communities together to improve their lives and opportunities
Campaigning for government action to end the illegal discrimination
Fostering tolerance and good relations between people of different castes
Introducing new income opportunities and vocational training
Training communities to advocate for basic services
Encouraging political participation
Supporting fishing communities protect their environment and livelihoods
Organising male and female workers in the informal sectors to achieve their rights.
One Billion Rising Revolution 2016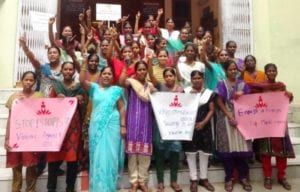 EKTA will rose for revolution along with women and men of Madurai, India.   For the third year they joined the biggest mass action in history to end violence against women and girls.  They are saying no to the rape, murder and beating experienced by 1 in 3 women on the planet.  Along with tens of thousands of One Billion Rising supporters they are demanding change.
EKTA works for gender justice with communities, college students and young tribal and Dalit girls.  They organised two debates for school children on 12 February to explore ways to end violence against girls.  On 14 February the collector and superintendent of police will address the local gathering at the Gandi museum along with a psychiatrist from the National Mental Health Programme.  College students, women's groups and children will perform cultural dances as part of the programme.  They will release balloons at the culmination of the event.  At the same time children at their school for Tribal and Dalit children in Killai will celebrate the strength of women.
The Madurai celebration goes from strength to strength as a wide cross section of girls and women come together to demand safer homes and communities.  Women with little schooling and those attending university rise up against violence.  Through EKTA's work, men and women are finding out what is happening through statistics and stories.  Local authorities are addressing women's concerns about public spaces and young people are learning to treat each other with respect.
You can support their work directly.
Will you help Indian women Rise4Justice?
Young women from tribal, fishing and Dalit communities dance to break the chains.  They attend the Nambikkai Centre, a home run by EKTA for 24 girls from single parent families in Killai, Cuddalore since the 2005 tsunami.  It offers skills and training for girls who live in the most difficult circumstances and in poverty.  Cuddalore was the district most affected and had the lowest ratio of women to men in the 2011 census.
"We are thrilled to share One Billion Rising in Madurai with you….  We truly appreciate the support you give to EKTA and our activities," says Bimla Chandrasekar, coordinator of EKTA.  She reports:
"The first part of  the programme was entirely performances by local groups, local college students and the girls from our Nambikkai Centre in Killai. These included cultural dances, singing and dancing on the theme of women's emancipation, dramas (including mime skits) depicting violence against women and women overcoming such oppression, and doing the choreography to the OBR anthem "Break the Chain." The second portion consisted of speeches on forms of injustice in Tamil Nadu and India as well as calls for action to change the present situation.
The culmination of the event was the balloon release. While coming together to dance to "Break the Chain," participants released colourful balloons to symbolise releasing the pain, anger and grief caused by violence against women as we all come together in solidarity and call for an end to such violence. As the theme of this year's One Billion Rising was "Rise, Release, Dance and Demand Justice," this seemed like a great way to encapsulate the "release" goal.
Many people commented that this year's event surpassed last year's, which we were happy to hear. We were also happy to engage a broad group of participants (over 1000 persons attended) in the event in order to share the OBR message with a wider segment of society. Also, as the event was at the Gandhi Museum (a fitting setting considering the emphasis on non-violence), many outsiders joined the event and learned about the campaign. As you can see and hear from the balloon release video below (although the quality is not as high as we'd like), a true feeling of celebration and solidarity was created throughout the event.
In preparation for V-Day, EKTA organised a second survey of the busy Periyar Bus stand.  There have been some improvements since last year: "The police are more responsive to safety complaints from women and have increased their patrolling. However, the infrastructure deficits have not been adequately addressed. Due to the national election in April, progress has been stalled for projects that require government action. Therefore, now we are preparing a memorandum for submission to the district authorities post-election."

Indian women cannot suffer in silence.  Please support EKTA's work to stop the suffering.  The EKTA appeal will run until International Women's Day on 8 March.  Please donate here. 
20 February 2014
Will you help Indian women Rise against Violence?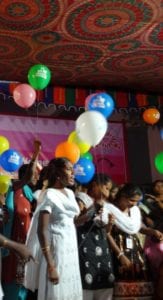 On 14 February 1,000 men and women are gathering to rise in Madurai, South India – their aim to stop violence against women and girls.  They will sing, dance, act and speak at the Gandhi Memorial Museum.  It will be a moment of energy in a campaign that will keep on going until justice is done.  EKTA is organising the event for the second year and they need your support.
The dancing and the noise of One Billion Rising is sending ripples around the globe as men and women rise up for justice.  It is the silence they want to break.  The silence that says women have to suffer in silence and alone.  They are taking action not on a screen but on the streets, creating spaces where women are strong and men stand with them.
Last year 21 CWS supporters and one women's group helped fund Madurai's One Billion Rising event on V-Day, February 14th.  They danced and they won better protection for women using the Periyar bus stand.  Local students presented the authorities with a report on what improvements were needed to make the busy bus stand safe for women.  This year EKTA has trained more students to inspect their city and lobby for safer conditions.  They are keeping up the pressure and need more support.
They are rising today so women regain their voices and can be safe.  The UN reports 1 in 3 women are beaten or raped in their lifetime.  In India violence against women begins before birth.  According to India's 2011 census, the child sex ratio decreased to 927 girls to every 1,000 males aged 0-6 years.  An estimated 7,000 female foetuses are aborted every day.  A woman is raped every 29 minutes and there is a dowry death every 77 minutes.  EKTA is one of the groups determined to make the country safer for women.
Fatima, now a local organiser says, "Getting involved in the Violence against Women campaign of EKTA has helped me to deepen my understanding of violence.  I feel empowered to handle not only my problems but also the problems of my friends."
Last year CWS appealed for your help – and you responded.  We raised $1905 to help fund EKTA's organising role in the One Billion Rising V- Day event in Madurai.  And we want to do it again but better.
Indian women cannot suffer in silence.  Please support EKTA's work to stop the suffering.  The EKTA appeal will run until International Women's Day on 8 March.  Please donate here.
13 February 2014
Making India safe for Women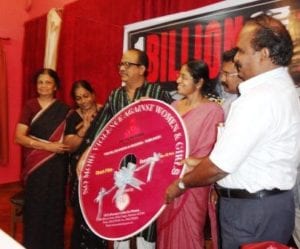 Madurai pledges to end violence against women and girls on V-Day, 14 February 2013
For EKTA working in Tamil Nadu gender justice is a key factor in the development process. They run training and advocacy workshops for women, girls and men to empower them to take action to end violence. For example, young women college students are learning how to evaluate the streets of Madurai for adequate lighting and toilet facilities as part of the global Safe Cities for Women campaign. They found the Periya bus shelter as unsafe and have already got the police to be more vigilant. The campaign continues.
On February 14, 2013 V-Day, they are demanding an end to violence against women and girls, as part of the ONE BILLION RISING campaign. They join women and men in 203 countries in the largest day of mass action ever to stop violence against women and girls, to express their outrage, and to strike, dance and RISE to support an end to violence against women once and for all.
The students of the department of communication, Madurai Kamaraj University produced this video clip as part of the campaign: