Seven Weeks of Prayer for Peace
CWS invites you to pray for peace with us through the seven weeks of Lent, an initiative of the Lutheran World Federation.  The campaign was launched on Ash Wednesday with a focus on Ukraine.  In the second week we prayed for Afghanistan.  In week 3 we prayed for Ethiopia and South Sudan.  In week 4 we prayed for West Papua.  In week 5 we prayed for Haiti.  This week we pray for Pakistan.
Loving God
We pray for peace in Pakistan
For people who are living beside flooded waters,
Without enough good food or safe shelter
Suffering from disease and no medicine
Hoping for the resources they need to live and rebuild.
Loving God
We pray for peace in Pakistan
For the people who make the decisions
That could find new ways for groups to live alongside each other
Stop the violence and discrimination against those who are different
Encourage respect for human rights and sustain life.
Loving God
We pray for peace in Pakistan
For girls and women who want to live well,
go to school and be treated fairly
be safe on the streets and in their homes
have a say in matters that affect them
Loving God
We pray for peace in Pakistan.
We pray in the name of the One who is the source of life and peace
Amen
#7weeksforpeace
Download Slide for Sunday.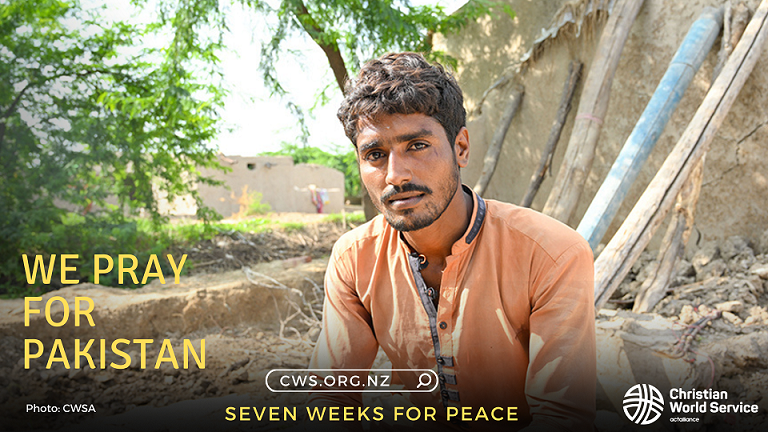 Shehdev (pictured) has big responsibilities.  He works hard to support his mother and the three children of his late brother after their mother left them.  Their home collapsed in last year's floods.  The family will live in a battered tent until he can rebuild their home.
He used to work as a bricklayer in Umerkot, 6 kilometres away.  His small savings helped the family through the first weeks of the floods and he earned more helping farmers drain some of their land.  To supplement his meagre wages, his mother picked cotton watching out for the venomous snakes that had sheltered in the remaining vegetation.
His practical skills are being put to use by our partner Community World Service Asia (CWSA).  With so much water around, the recovery process is slow but at least he has not had to go into debt like many others.
Pakistan is highly vulnerable to climate events and other natural disasters like the earthquake on March 21 that affect the poorest people the most.  High inflation, inequalities and political tensions are destabilising.  People may face discrimination and physical violence from other groups, the police or the military because of religion, gender, or for political views.
In Pakistan, an estimated 5.1 million people are living at the emergency level, stage 4 in the Integrated Food Security Phase Classification (IPC).
Last year's record-breaking floods covered one-third of the country – 1.8 million people still live near stagnant floodwaters.  Many families are living in tents and temporary shelter.  Parents have no income and cannot find enough food to keep their children from severe malnutrition or afford medical treatment including from water-related infections.  Community World Service Asia says the floods had a disproportionate effect on women and girls, who are facing increasing levels of poverty and illiteracy.
Thanks to Community World Service Asia for the story and images.
Donations to the Pakistan Flood Appeal will provide cash and other assistance to flood survivors through our partner Community World Service Asia.
Watch the video Ravaged made by Community World Service Asia in the Khairpur District of the Sindh province.  Donations to the Pakistan Flood Appeal supported a similar response to people in the Matiari District.

March 30, 2023