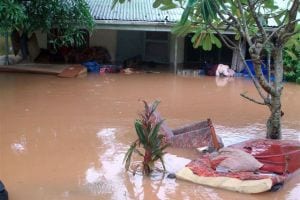 Ecrea, CWS's partner in Fiji, has been distributing food rations and mosquito nets to squatter settlements and inaccessible rural villages which had been left out of initial aid distribution in the wake of the January floods. The floods were the worst in recorded history with 400mm, a month's rainfall falling in the first 2 days alone. There is widespread damage in the north, west and central regions of Fiji. The official death toll reached 11, with over 10,000 people seeking shelter in evacuation centres. Now they are dealing with the loss of homes, belongings and livelihoods and destruction of crops, roads, water systems and electricity. CWS is receiving donations for Ecrea's work. Donate online or phone 0800 74 73 72
Extent of the devastation:
CWS's former national director Jonathan Fletcher recently returned from Fiji saying the world had no idea how severe the floods were.   The inauguration of Barack Obama and the Gaza crisis overshadowed the floods, the worst since 1931.  In some parts, 2m of rain fell in 48 hours.
Jonathan talked to central Nadi business owners who lost all their goods, a pharmacist who lost a month's supply of medicine and an electronics shop owner who lost $360,000 of stock.  None of these businesses had insurance.  Because Nadi regularly floods, insurance against floods of more than 30cm is unavailable.
Everywhere, Jonathan saw sofas, chairs, mattresses and books spread out in front of houses to dry in the sun.  People cleaned debris and silt from cupboards, furniture, electronic devices and gas cookers.  In rural squatter communities, locals showed him how high the waters rose.  In some instances, it was greater than head height.
He met a farming household of five children under 11 and five adults that cross three generations whose small house was submerged in 1.8m of water after the nearby river rose 8m.  In previous floods, the river rose 4m.  Before fleeing to the community hall, the family put the puppy on the roof and prayed the ducks and chickens survived.  They came home a few days later to find all the animals alive.
A cane cutter living in basic corrugated iron hut told Jonathan he had no savings or other means of re-establishing himself.  He has no income for the moment as it is cane-cutting off-season.  When he returns to the cane fields the crop will be damaged and the yield lower, meaning less work for him.   Casual off-season work has all but vanished because of flood damage.  At this time, the man needs work and money more than ever.   Jonathan heard that the owner of one severely damaged house was so upset the house could not be repaired that he suffered a heart attack and died.  On a low income, re-building was impossible.
He said school students would return to class without books.  Parents spent their end of year bonuses to buy text books and exercise books before the flood but these books were now destroyed.
"My overwhelming impressing and shock was that it was much more severe than it was reported.  It seemed the once the tourists were no longer stranded and because relatively few people died, the interest stopped," Jonathan said.