Photo: A young girl does her homework.  The Beit Hanoun neighbourhood where she lives was heavily bombed in 2014.    Photo credit: Act for Peace/R Wainwright
Give Gaza A Break
One year on from the 51 day war, CWS has launched a 51 day appeal for Gaza. We are appealing for support so children like Turek get the care they need.  Buildings remain as they were at the end of the conflict and according to the World Bank the economy is on the brink of collapse.  DSPR is providing an oasis of hope: healthcare for mothers and children, education for young people, fun activities for children living amidst ruins and trained counselling to children with post traumatic stress disorder.  Will you help? Donate today.
Peace Sunday Resources 2015
Out of the Depths I Cry to You  Worship resources for Peace Sunday focusing on the need for psychosocial care in Gaza.
Slides for children's talk.  Select those appropriate for your group.
Church Leaflet available in Word and as a PDF.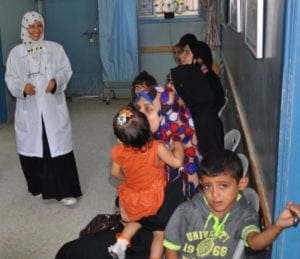 2014 War ends in Truce
On 27 August 2014 a long term ceasefire came into effect.  We hope and pray that it will be the first step towards a long term peace that addresses some of the underlying insecurity.  The blockade must be lifted so that the people of Gaza can rebuild their lives and livelihoods.  Those who commit acts of violence must be held to account and every effort made to build a just peace.
Palestinians, UNRWA and NGOs like CWS partner DSPR are assessing what to do after 50 days of war.  Every resident of Gaza has been affected.  Food and water are in short supply.  An estimated 18,000 dwellings have been destroyed, 2116 people have lost their lives, and 11,231 people have been injured.
With 220 schools damaged, 500,000 children are unable to begin the school year. Psychosocial support is being built into the school day in an effort to help children deal with all that they have experienced.
The Department of Service to Palestinian Refugees is working hard to help those needing medical care, food, water and other relief.  Their three clinics have reopened, including the Shijai'a clinic that was damaged when the neighbourhood was bombed.  They report significantly increased demand and high levels of trauma.  Staff are doing all that they can to meet the needs of people with nowhere else to turn.  There is a lot of work to be done!
Please donate now to the Gaza Appeal.
Church Leaflet available in Word and as a PDF.
Peace Sunday Resources include a prayer for Gaza.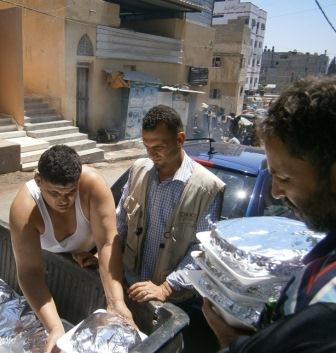 How we help
DSPR  delivered the first food, water and hygiene kits to 409 families whose homes were destroyed.  Distributions will continue as long as the ceasefire holds.  ACT Alliance partners distributed hot meals and shelter materials in the Az Zaitoun area on the first day of the ceasefire.  The Augusta Victoria Hospital has deployed 2 specialist medical teams and much needed medical supplies from Jerusalem.
DSPR has reopened the three maternal health clinics in Shijaia, El Darraj and Rafah.  They are providing vital medical and psychosocial help to mothers and children who have witnessed war at firsthand.  Temporary repairs have been made to the Shijaia clinic to make it operational – the Shijaia area was one of the targets of the military offensive.  Staff will respond as they are able – some have lost loved ones and their homes or cannot get there.  The four vocational training schools are on hold.  DSPR will provide US$100 emergency cash grants for food and other necessities and fodder for livestock.
There is more to do
Please pray for the people of Gaza and those who can stop the devastation.
CWS has written to the New Zealand government commending them for their calls for a ceasefire and asking them to follow up with a direct meeting with the Israeli ambassador to New Zealand.
Firsthand Reports
Via George Stephan 2 August,2014 who noted that fighting has intensified despite the ceasefire:
Thanks for your prayers and thoughts.  Finally a ceasefire in Gaza hopefully for 72 hours, 12 DSPR staff are working now on preparing food baskets and hygiene kits for at least 400 families who were displaced in Orthodox churches, nearby mosques and surrounding areas in Zaitoun area.  It is worth noting that all DSPR maternal clinics will operate over the next two days.  The one located in Shijaia area which has been partially destroyed will be renovated first by TVET trainers.  Many DSPR staff will not be able to work as they are displaced and their houses were destroyed partially or totally.  Sadly, I would like to add that one of DSPR staff member has lost her young son after being attacked at UNRWA school in North of the Gaza Strip. Moreover as there is no electricity, no internet, no communication and no water pumped to houses, we don't have information about all staff and their families.  
Hope this will come to an end soon.
Kind Regards
Dr Issa & Wafa Kanaan
Staff of CWS partner, the Department of Service to Palestinian Refugees (DSPR) are reporting on the horrors of war.  Wafa Kanaan, the medical director writes,
"Bombs are everywhere in Gaza with no stop.  We are really living a disaster here.  I cannot sleep well at all since the first day till now, feeling scared all the time.  I am thinking of my 11 month baby girl and how to protect her while I am hearing and watching everyday stories of fathers and mothers who were not able to protect their children."
George Stephan writes from DSPR 30 July 2014:
"The situation on the ground is much worse than any could envisage.   Dr. Issa told me that all Gaza is under fire and every single moving object is subject to be targeted.  Yesterday, our colleagues tried to buy food items to be distributed to the displaced people in Gaza city, but were not successful.  Yesterday , was a bloody day with more than 150 persons killed, most are children. The other constraint in Gaza is the lack of cash with all the banks closed. Still, we are in contact to figure out actions to be done without jeopardizing our staff members."
Photo:ACT/IJahshran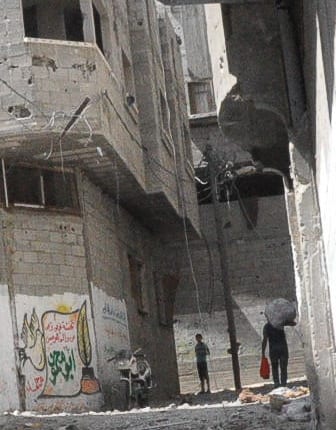 Dr Bernard Sabella of DSPR writes:
Letter 4:
According to latest statistics, the DISPLACED in Gaza have reached the 300,000 mark. Most of them are housed in UNRWA, Government and Private Schools, including Church Schools, Churches and Mosques. Coping with the influx of the displaced as they moved from the Eastern parts of Gaza to the Southern parts is not an easy task. UN General Secretary Ban Ki Moon has spoken of the inability of UNRWA to cope with the needs of the displaced, especially that there are no available stored supplies of food, hygiene and other basic necessities. The warning given to the population by the Israeli war machine that their neighborhood would be bo
mbed does not allow them to take any of their belongings with them, and according to Dr. Suhaila Tarazi, director of Ahli Anglican Hospital, many leave their homes without even taking their Identity Cards with them. The UNRWA schools that house a majority of the displaced have inadequate health, hygiene and food commodities. A complicating factor, according to Dr. Issa Tarazi, the Executive Director of DSPR Gaza is the fact that electricity has been completely cut off for the last two days and people cannot have access to water because the pumps do not function anymore. Refrigerators thus become obsolete and there is no way to keep perishable food any more.
Children suffer most as Ahli Hospital hosts 120 children, on average, who are inflicted with diarrhea, rashes, infections and other bodily ills caused by the deteriorating humanitarian situation. The Hospital has treated over 400 injured since the start of the war and as the need develops wards are opened to receive the injured. At present there are 25 patients being treated for injuries. Some of their family members and others use the Hospital to have some food and to take a shower. But the situation has driven all staff at the Hospital and elsewhere in Gaza to the point of exhaustion.
As colleagues in Gaza have spoken of the numbers killed overnight adding to the already heavy tolls of innocent civilians and children, it appears that what Dr. Vamik Volkan, a Harvard Psychiatrist, has written in 1979 about War and Adaptation in Cyprus sadly applies here. Adaptation to the ongoing war means that we have become desensitized to the brutality of war and to wh
at tolls it exacts in terms of human and environmental costs. It also means that we have withdrawn to our own version of the reality, with all its cruelty, to the neglect and negation of other versions.
The tragedy is that thousands of Palestinians in Gaza have become destitute as they have lost homes, families and loved ones. The urgency of relief becomes a primary concern while, at the same time, politicians are only concerned about their agendas.
Unfortunately even relief can become a political tool and this is why it is important that our work on the ground steers clear from any political motive. Our goal is to serve the people in need and not to become part of an ugly political game.
From all accounts, our colleagues in Gaza and their families cannot sleep at night. The intensity of the bombing together with the outage of electricity, lack of potable water, unavailability of fresh food or fruit have brought our Palestinian people in Gaza back to the Middle Ages. Presumably people in the Middle Ages lived a normal life; in contrast our people in Gaza live amidst rubble and destruction all around. A lady I spoke with told me that the Israelis have gone crazy as they are incessantly bombing and shelling and they never stop. She questioned: Who is going to stop this craziness and when?
While UNRWA is trying its best to cater to those who are temporarily housed on its school premises, there are others who sought refuge with Churches, Private Schools and Mosques. The Greek Orthodox Church opened its doors to more than 800 people; the Roman Catholic Latin Church is hosting close to 900 people; the Greek Orthodox Cultural Center is home to 500 people while the Mosque across from the Greek Orthodox Church has around 500 people on its premises. These displaced people are in need of food, water and maintenance of hygiene. It is not sure that the stores in Gaza have the required supplies to cover all the needs. This is why we are approaching some international organizations that can move around to check on whether they can supply food packages to the Churches, Private Schools, DSPR Clinics and the Ahli Hospital.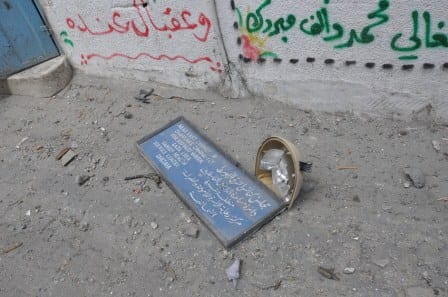 On DSPR's part, work is being done to assess the needs that will emerge once a ceasefire is agreed upon. Among the most pressing needs would be food and working with others to plan how to help accommodate the displaced in more livable conditions. There will be need to assess what supplies are available in which stores and which organizations are engaged in food distribution. One of the things that we are studying at present is whether there is a need to send bottled water as we did in the previous war. Once our clinics are operating again, we would learn of the various needs of the population and we will update you. If any damage has occurred to our clinics and offices, we will detail these and inform you. It is too dangerous, as the bombardment and shelling are going on, to expect opening up of our clinics and offices. Actually, most people opt to stay indoors and when warned of impending bombing they have practically no time to run for their lives.
Our most pressing concern and priority is to serve people and to cater to their immediate needs, at this stage. As a medical doctor from Gaza informed me tending to the physical wounds and the basic needs of the population is the most pressing need, at present. When I asked about the "post traumatic disorder syndrome" and what he plans to do, his convincing answer was that the priority at present is survival. Once we have survived, we would deal with the post traumatic disorder. Very sad! DSPR is ready to work with other organizations, both local and international, as we all focus on our people and their needs. It appears that we do not need to make additional appeals to the international community and the "influential" Western governments to get them to use their influence to stop the carnage and the continuing killing and destruction, as these appeals have been futile. And as a young Palestinian asked me yesterday: how can we use the popular support to Gaza and its people seen on the streets of Europe and elsewhere to make governments act accordingly. I have no answer but I trust that we should all be talking to our governments and insisting that we cannot have peace between Palestinians and Israelis by bombarding Palestinians back to the Stone Age!
Dr. Bernard Sabella
Executive Secretary
DSPR Central Office
30 July 2014
Letter 3:
Today Bernard reposts a piece he wrote in May 2003:
Finding A Way Out or Waiting for Godot
As a young undergraduate student in the US, I read Samuel Beckett's Waiting for Godot and Eugene Ionesco's The Chairs. I could not figure out what the plays were all about and found it difficult to understand the wisdom of the Theatre of the Absurd to which both belong. But almost four decades later, judging from the current situation in our part of the world, I have come to the conclusion that Waiting for Godot, The Chairs and the Theatre of the Absurd make much more sense than what I have thought originally.
In the Palestinian Territories and Israel, we are all waiting for Godot but, the way we are both going, he/she/it will never show up! We also continue to play the Chairs, each side to its own interests and tunes, musical chairs one can say but without the music! Absurd and sad, one could describe our presentation to each other in daily life. But much more absurd and dramatic is the fact that there is not, at present, an exit from the stage that would invite relief, smiles and feelings of accomplishment.
Stuck on the stage, one could say that there is a need for a good producer/director to help us both out. The problem is not with a specific actor or actors but in the whole ensemble. Appropriately or not, those who drew the Road Map were thinking of an exit. If the Palestinian actors would only stop terror, the Israeli actors would hide the tanks under the Chairs. They may even pull back to the periphery of the stage and allow Palestinians to have the full stage, albeit surrounded by a stone wall. What is missing is Godot. He/She/It will not show up: something is wrong in the stage setup. The setup itself needs to be changed and not simply the actors. On another nearby stage, a Godot pretender or usurper, to use the harsher term, came and changed the setup or maybe he thought that he changed the setup. He came claiming liberation, human rights and similar sounding motives. His aim was to do away with the bad hero, the primary villain actor, and to replace him with new actors. A school teacher in a Palestinian village was asked by his 5th grade students if they could write to the White House asking for liberation, human rights and the similar sounding words. They, the children, would also like to see some new actors on the adversary's side. The teacher, however, cautioned his students not to be too optimistic and not to have too much hope. Perhaps the teacher, like the rest of us, is waiting for the genuine Godot. Godot pretenders, irrespective of the terms they use, are not good producers/directors. They may change the actors in some setups but definitely they would not change the setup. And the setup is the problem. We have to wait for Godot, the authentic Godot, in order to keep the hope going.
So we are doomed to wait and wait for a lifetime till the authentic Godot comes. My father's generation has waited, they were praying for the magnanimity and fairness that Godot would bring with him but he never showed up. This saddened them to depression and to darkness experienced in life. Our adversaries also experienced the worst in Europe and Godot never showed up to comfort them. This left an impression on them to never again go through that experience, at whatever cost. My generation is waiting and my adversaries' generation is waiting but there is no exit. Some say the children, the children are the hope: those who are not touched by terror and those who do not touch guns or mount tanks. They will have to wait for Godot and he will certainly show up for them because of their innocence and their pure hearts. I am not that certain that he would. The whole setup needs to be changed and the actors and the ensemble need to change. They all need to have new rules to guide their actions on stage. They really need to compose and read the same script; not to have two widely divergent scripts that actors, on each side, keep rehearsing and repeating ad nauseam ad infinitum.
But what does it take to make these changes happen: not one thing but all things. The American thing together with the British thing and the European thing and the Arab thing and the Israeli thing and the Palestinian thing, not to forget the UN and the other things, need to come all together on stage. They need to work out a new setup, not to leave the Palestinian and Israeli actors by themselves. By themselves these actors will not create a new setup. A change of heart in both Palestinians and Israelis may occur but in a different setup. The setup now is the problem as it does not have an exit. If there is to be an exit, those who are proposing it must come on stage. It is not enough to propose an exit from outside the stage. Would new actors join the Palestinian and Israeli actors on stage? There is doubt. Meanwhile, we continue to wait for Godot. Apparently, he/she/it remains our last hope to find an exit for all of us here. But will he/she/it come?
29 July 2014
Letter 2:
I do not want to reiterate what I wrote in a previous message but the situation on the ground in Gaza is so tragic. The conflict between Israel and our Palestinian people has taken a turn to the worse. The scenes of bloodshed, of innocent children reduced to pieces, of grown-ups mourning their loved ones, of funerals attended by thousands all add up to a situation where Palestinians and Israelis cannot stand each other, any more. I do not know if it is hatred or simply group solidarity and identity that puts us against them, and vice versa, but the reality is that our separation this time is so brutal and the way the Israeli war machine has opted to deal with our people only reinforces this brutal and tragic separation.
Amidst this trauma, the work of non-governmental and church related organizations is important. But if you would allow me, we have failed in our so called "advocacy" efforts as we have not convinced the politicians here and abroad of the need and urgency to make lasting and just peace. We have acted like a Band-Aid for the Israeli occupation and not as a surgical tool to help end the occupation. We will come back to the scene of devastation in Gaza and some will also work with the Israelis in Southern Israel, because of balance and the need to be seen as impartial and fair to both sides, but the reality is that our work as good Samaritans does not really help transport the conflict to a situation of peace and a just lasting solution. I may be generalizing and some of you will not be happy but we need to do more than simply being good Samaritans.
The times are very difficult indeed and they will become more difficult in the coming weeks and months. No, I am not talking about a third Intifada I am simply saying that the separation between us and the Israelis, because of the devastating war in Gaza, is irreversible. While we tend to the wounds of our Palestinian brothers and sisters and their children, we have to remember that this tragedy in Gaza would not have happened if the Israeli politicians have opted for peace and went on with the peace negotiations. Some, particularly in Europe and the West, put the blame on Hamas for shooting rockets into Israel. But what is the root cause for this, can we ask? if we Palestinians have to behave like good boys, on Israeli conditions and accept all the infractions committed against us, are we really human? Who can convince us that what Israel is doing with its siege on Gaza, its settlements in the West Bank, its policies and measures in East Jerusalem are all for our good and for the future of our children? Is Israel preparing the ground for good neighborliness or is it creating the environment for further war and bloodshed? When would Israeli politicians wake up?
Now to some news from our Colleagues in Gaza, I have been in contact with Dr. Issa, the Executive Director of DSPR Gaza and he informs me that the staff and their families are fine to the best of his knowledge. The Shija'iyeh clinic had its outer door opened because of the bombardments and there was fear that because the clinic is open then the clinic may be compromised. But  the owner of the building where the clinic sits, has returned to the building and he worked on blocking the door as best as he could and he alerted neighbors who opted not to leave the area to keep their eyes open on the clinic.
The expectations are that the Rafah clinic being in a sensitive area may be exposed to the effects of the war. So far according to Dr. Issa, we have not heard bad news there and we continue hoping. The vocational training centers most likely would have suffered shattered glasses and possibly some minor structural damage but we need to ascertain this once the war stops. Main offices are fine but again there shattered glasses and some damage but once we gain access, we will give a more detailed description of the situation.
The bombardments are heavy especially at night and this puts grown-ups and children in a most difficult and traumatizing situation. A woman I spoke to described how she could not sleep as the bombardments were going on Wednesday night. She told me she is really worried and traumatized by what is going on and so is her husband. She lives in a relatively "safe" area but she is not sure that they will be spared the indiscriminate shelling and bombardment. People sit at home and do not dare to go out except if there is an emergency. There is minimal driving and stores are mostly closed. The prices however have risen very high, in part due to the lack of goods. The cash situation of most Gazans is bad even though the Palestinian government in Ramallah has paid the July salaries yesterday because the end of Ramadan arrives on either Monday or Tuesday of next week. Still, a good number of people do not have money to cover their basic necessities.
One of the sad things about this war is that aside from the physical separation between Palestinians and Israelis; the separation wall, the Gaza siege, the permit system, etc…, there is now such a psychological separation between the two peoples. Jew and Arab are living in two worlds with no meeting ground in the middle. The gulf that has grown wider and wider with this war necessitates political separation. Only a peaceful resolution that would bring to our Palestinian people its natural rights of establishing a state together with solving the outstanding problems with the Israelis, could help in bringing the two peoples to the realization that, like it or not, they are neighbors living side by side. But for this to happen we are in need of courageous leaders, especially on the Israeli side.
In friendship,
Dr. Bernard Sabella
Executive Secretary
Department of Service to Palestinian Refugees
Middle East Council of Churches
25 July 2014
Letter 1
As the situation in Gaza worsens, as OCHA Update on Gaza on July 18, 2014 shows.  And as over 300 of our Palestinian people are killed and 2300 injured, 80% of whom are civilians; women and children in particular. And as over 1900 homes are either completely destroyed or severely damaged. And as over 50,000 Palestinians are displaced. And as over 52,000 children are in need of Psychosocial Support and their numbers are growing by the hour  And as electricity and sewage infrastructure are damaged. And as 13 primary health centers are closed and 84 schools are damaged by shelling. And as over 40,000 Palestinians are dependent on food assistance. And as…and as…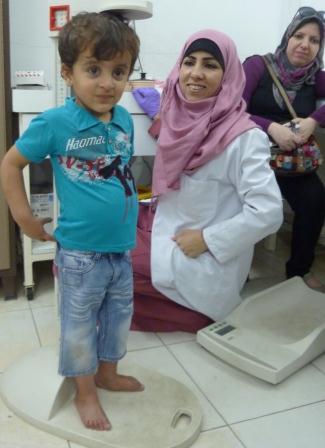 Allow me to thank each and every one who seeks to offer or is actually offering assistance. BUT most important than assistance is the need to convince the Israelis, especially the politicians, that the only way out is through making PEACE with us, Palestinians. This current tragic situation is a déjà vu situation and it will be replicated in the future. And as Constantine Dabbagh, the veteran retired Executive Director of DSPR Gaza, said that even if Israel succeeds in whatever it is doing, without a peaceful solution the alternate to Hamas is the rise of groups that would be more bent on confrontation rather than on a political solution to the conflict. The core issue is that of Justice, and both Constantine and Issa Tarazi, the Executive Director of DSPR Gaza insist on that. It is not logical or understandable that Western governments ignore JUSTICE as they deal with the immediate situation and overwhelmingly support Israel and its actions against Gaza. These governments chose to ignore the fact that Gaza has been under siege for over 12 years now with enormous costs to its population. And what did these governments offer for the people of Gaza except selective financial support, like morphine shots to a chronically ill person? Where is the moral power of the West? Or is this only applicable when it is suitable or profitable? Where is the determination of the Western governments, especially those so much in support of the government of Israel in whatever it decides, politically and militarily, in pointing out to their Israeli patrons and friends that without a genuine, fair and just political solution, Israel will continuously be embroiled in Gaza déjà vu situations?
Talking to Dr. Issa Tarazi, Executive Director of DSPR Gaza, I sensed that everything is paralyzed in the Gaza Strip. Children are frightened and many are in a state of shock at what is happening. Children are in tears and cannot go to sleep; they feel the insecurity of the situation as they hear the sounds of war and as they see grown-ups at a loss over the destruction of their homes and other tragedies and traumas. Hospitals are overcrowded and their staff overworked. Bombardments and shelling have become background noise that shake the ground under one's home especially during the night.  But is it possible to do something at present to respond to immediate needs? Primary health care centers are closed, including those of DSPR Gaza. The closure is due to the danger that looms whenever one ventures out of her/his home.  The expectation is that when the war situation is over, there will be mounting pressure to respond to both physical and psychological needs of the traumatized population. Both Constantine and Issa pointed out that a large number of people have no cash to spend on food, hygiene and other essentials. Again once the situation takes some semblance of normalcy, there would be thousands of Palestinians who will seek financial support, will need to rehabilitate and rebuild homes, will have to deal with post traumatic disorders and who will need to be reassured that they are normal people who deserve to be treated like all other normal people elsewhere in our world.
Yes, there is need for intervention. BUT unless intensive work is done to get Israelis and Palestinians to the negotiating table, not to just discuss another truce but to work out a permanent peaceful solution to the Palestinian – Israeli conflict in its entirety. If this does not happen and if Western governments do not rise up to the challenge of peacemaking, then all the support and aid given to the Palestinian population of Gaza would only be a strip of band aid on an open oozing wound that will not be healed by such aid. So for those willing to help and financially support Gaza and its people as they cope with this war, do please remember that what Gazans and Palestinians need most is PEACE and JUSTICE.
Dr. Bernard Sabella
Executive Secretary
Department of Service to Palestinian Refugees
Middle East Council of Churches
Photo: May 2014
20 July 2014
Other Reports
Christians in Gaza: Read the YMCA survey May 2014