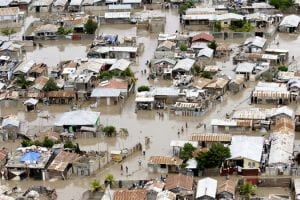 The Caribbean nation of Haiti, already one of the world's poorest countries, has been devastated by a series of hurricanes and storms. The damage is widespread. The massive destruction in agriculture has hit people hard, as they were already struggling to survive the ongoing food crisis and political instability in the country. The immediate needs are: food, water,clothing and medicines. CWS is receiving donations for relief efforts.
Haiti has been struck by Hurricane Gustav, Tropical Storm Hanna, and Hurricane Ike over a two week period. There is a high likelihood that further storm systems could also hit.
The Government is severely burdened by the disaster, which has caused nationwide damage.
CWS has been supporting community development programmes in Haiti for over 15 years.