Pacific Tsunami
Donate now: phone 0800 74 73 72, give online or post cheque to CWS PO Box 22652 Christchurch 8142. Download donation slip here.
A survivors prayer: Written by 12 year old George Barton, St Ninian's Uniting Parish, Wellington
CWS Response
CWS has sent NZ$10,000 to the Free Wesley Church of Tonga to replace two boats lost in the tsunami. The boats are needed for the people of Niuatoputapu to get to their plantations on neighbouring Tafahi Island so they can resume their livelihoods.  The boats are also used for fishing and will be fitted with outboard motors, safety equipment and fishing gear.
An additional NZ$20,000 has been sent to the Lower Hutt Family Centre, Anglican Social Services, which is working with its long time partner Afeafe o Vaetoefaga i Vaialua in Vaialua, Nofoali'i in North West Upolu. Their response to the Samoa tsunami aims 'to address the need to restore wellbeing and resilience to people, families, children and youth in the village severely impacted by the tsunami of 29th September 2009'.  Key activities so far have included an 'initial trauma response phase' (6 weeks) working with families and children who have been severely traumatised by the tsunami.  The next phase is a trauma counselling community outreach training programme for youth facilitators in tsunami affected villages, and through that programme to train youth leaders.
CWS is also supporting the Christian Congregational Church of Samoa Children's Relief Fund Sale'apaga Community Hall Reconstruction Project. Sale'apaga is a community of 500 people.  In the tsunami, 31 people died, of which 20 were children under the age of eight years.  The whole village is relocating inland to start afresh.  The project aims to reduce future vulnerability by building on a higher level site that should provide protection both from tsunami but also rising oceans from global warming.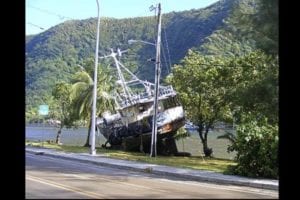 Background
A massive earthquake of magnitude 8.3 on Wednesday morning 30 September(NZ time) unleashed a series of devastating tsunamis affecting Samoa, American Samoa and Tonga.  The death toll is at least 180 people and is expected to rise. Thousands are homeless.
Churches and local partners are contributing to local relief efforts, providing much needed help and support as the people grieve the loss of loved ones, seek medical assistance, food and water supplies and find temporary shelter.The main concerns now are water, sanitation, the handling and storage of bodies, and trauma counselling.
CWS partner, the Pacific Council of Churches, is assessing the next steps and making plans to support local communities as they support each other and rebuild their lives and livelihoods.
In Tonga, CWS partner Tonga Community Development Trust (TCDT) says all the villages it works with have been affected in some way, although not at an emergency level. The northern island of Niuatoputapu is most affected. The death toll is at least 10 and most homes have been swept away. The Catholic Church, 600 metres inland and one on the few buildings left standing, shows a "tide mark" on the side of the building four metres high.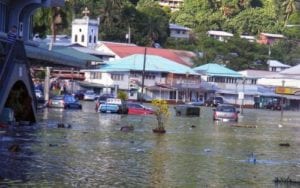 The TCDT is supporting local relief efforts to collect food items, clothing and any other useful donations to be shipped immediately to Niua this Saturday. Longer term, they expect to need assistance with rebuilding.
Both organisations have expressed their thanks for the sympathy, prayers and kind words of support for the affected peoples in the Pacific.