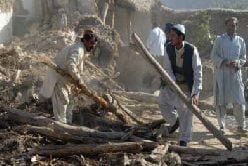 On 29 October, an earthquake measuring 6.5 on the Richter Scale devastated parts of the province of Balochistan, Pakistan, with the districts of Ziarat and Pishin being the worst hit areas. Aftershocks over the last seven days have created further damage and fear. CWS partners in the region have reported over 350 people were killed, 1,800 injured and 17,500 households have been left homeless.  Much of the affected area is inaccessible and the toll is expected to rise.  Many survivors in remote villages have not yet received assistance due to roads being damaged or blocked by landslides.
Mud and timber houses in the area have collapsed and people are still living out in the open without proper shelter seven days after the initial quake. With temperatures at night reaching a low of -4°C, vulnerable people are suffering from cold-related illnesses, particularly women, children and the elderly, who do not have tents, blankets or warm clothes.
Water systems have been damaged and contaminated water is being used for drinking. Cases of diarrhea are increasing. Other urgent needs include food, medicine, stoves and basic utensils. Damage to dams poses the additional risk of flooding in the affected areas.
ACT International members have responded with tents, blankets, food and winter clothing for up to four thousand families. The members have the capacity to provide urgent help to 40,000 people in the area.
CWS is receiving donations for this work.