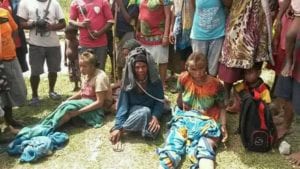 On 26 February 2018 a magnitude 7.5 earthquake struck Papua New Guinea, followed by a series of strong aftershocks that have affected Hela, South Highlands, Western and Enga provinces. More than 125 people have been confirmed dead in the Southern Highlands and Hela provinces. 35,000 people have been displaced and some places are still cut off because of large-scale landslides, flooding and other earth movements. Temporary dams have been formed by the earthquakes which if they burst, threaten to flood communities downstream. Hospitals and health facilities have been damaged or destroyed.
According to official estimates over 544,000 people have been affected. About 270,000 require humanitarian assistance. Food is running short and there are fears of disease especially from dirty water. Infrastructure has been damaged making aid delivery to this remote and hilly region difficult. Power and communications are out in many areas. Weeks after the quake people are sleeping outside and living in fear.
CWS is working with other ACT Alliance members to provide essential relief supplies. Your donation will help with shelter and hygiene needs, water containers, protection, psychosocial help and other requests from partners on the ground and then with more permanent reconstruction. Churches will provide support to communities.
Photo Credits: Thanks to Facebook: Andrew Solomon, Jaycoz Pokura, Luke LP, Martyn Namorong and Mi Ripot