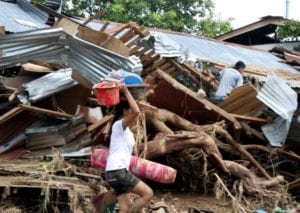 Typhoon Washi swept across north eastern Mindanao and the Visayas in the Philippines on December 16, 2011. Winds gusted to 80 kilometres per hour and the region experienced massive flooding, landslides and flash floods.  The typhoon killed 1080 people, mostly women and children with 1,079 people still missing and 1,979 severely injured.  An estimated 674,472 people have been affected and more than 28,030 homes destroyed in 13 provinces.   Many survivors are staying in evacuation shelters while others are left camping by the roadsides.   The Philippines government has begun building temporary shelters to accommodate them.
The Mindanao region is not normally hit by typhoons and so was not prepared for this level of disaster.  Local groups including ACT Alliance members have been responding with immediate assistance: food, shelter, safe water and cash assistance.  CWS is appealing for funds to continue to provide local people with the means to survive and recover.
Regional manager for Christian Aid (one of the local ACT Alliance members), Ramani Leathard commented: 'Sadly we know that in times of disaster, the poorest families are generally the worst affected. They tend to live in the riskiest areas and their modest homes are the least able to withstand powerful winds and surging floodwaters.'
Please help Filipinos with emergency relief now.
Read an eyewitness account from Christian Aid.