Solomon Islands Flood 2014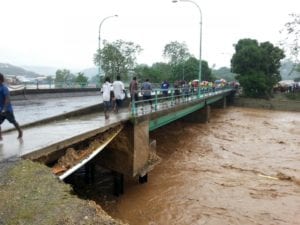 The UN reports that 52,000 people were affected by major flash floods on 4 April. According to official reports, 21 people have been confirmed dead with two missing.  Many homes were washed away or severely damaged. Around 9,000 people are living in 24 evacuation centres in Honiara and Guadacanal province.  Major bridges, water and sewerage systems were badly damaged or destroyed.
Official relief supplies are now being distributed including from the New Zealand government.  Health issues are a major concern.  There are reports of diarrhea and conjunctivitis in children.  41 schools have been affected by the flooding.  It is expected that schools will not reopen for the new term on 14 April.  The rain has eased.  Floods have affected other parts of Guadacanal province.
Churches are visiting people in their homes and evacuation centres as well as providing food, water and some clothing.  Women's Fellowship members are helping clean up homes devastated by the floods.  Church members are cooking for the residents of 3 of 9 evacuation centres in Honiara.  They are also looking to restore subsistence gardens and replace tools that were lost.  This appeal will help with the longer term recovery.
CWS has launched an appeal to provide pastoral and practical support through local church networks.  We will work closely with the Uniting Church of Australia and New Zealand church mission agencies in a coordinated response.
Download an Appeal Leaflet here.
Donations to the Solomon Islands Flood Appeal can be made:
•    Online and by direct deposit here
•    By Phone with a credit card: 0800 74 73 72
•    By Post to: CWS, PO Box 22652, Christchurch 8140