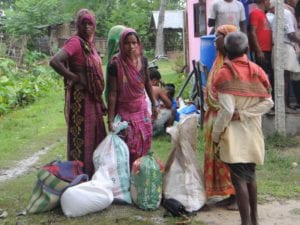 More than 40 million have been affected by flooding and landslides in South Asia. Two months of unrelenting monsoon rains have drowned much of Bangladesh, north India, and Nepal. At least 1,200 people have lost their lives. Tens of thousands have lost homes, possessions, and livestock. About 13,000 are ill with respiratory infections and diarrhea in Bangladesh and 26,944 have been treated in Nepal's health facilities.
In some areas ACT Alliance worked with local groups to make sure people knew what to do when the situation reached disaster level. Staff began distributing food, nonfood items, water, tarpaulins, hygiene kits and mosquito nets as soon as they could.  The work continues.
"The flood destroyed all my field.  I am worried how I will feed my children," says Sada, father of 4 who rented land and his home.  He was grateful for a hygiene kit, tarpaulin and mosquito net from ACT Alliance Nepal.  "At least I can protect my children from disease and mosquito bites he added."
In India's Assam, Bihar and North Bengal, ACT Alliance India will distribute dry food rations, non-food items including clothing, blankets, and utensils, plastic mats (so they do not have to sleep on the mud), tarpaulins, and hygiene/dignity kits for women.
In Bangladesh, donations will contribute to the Humanitarian Fund of long term partner, the National Federation of Garment Workers.  Many of the factory workers are from the affected rural areas.  The Fund will make small cash grants so the workers can give the families what they most need.
Standing crops, grains, seeds, livestock, poultry, and fish have been swept away in the floods.  Farmers have worked hard to protect animals and crops but the flooding and landslides have been more severe.  They need help to recover.