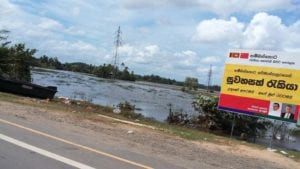 Cyclone Mora and monsoon rains beginning on 24 May sparked widespread flooding and landslides in Sri Lanka. The rains reaching 500mm in 24 hours in some areas have left 203 people dead and 96 missing.  More than 631,000 people have been affected and 9,000 houses have been damaged or destroyed.  In the worst affected Southern, Western and Sabaragamuwa Provinces people are sheltering in temples and schools.  At least 16 hospitals were fully or partially evacuated.  There is a high risk of further landslides and the spread of communicable diseases.
CWS partner MiONLAR, the Movement for Land and Agricultural Reform, has asked for assistance to rebuild and repair damaged houses, rehabilitate livelihoods and the environment, and support communities mitigate the effects of climate change.  MONLAR members from less affected areas have gone to help clear drains and wells or repair houses where they can.  They are organisng more farmers to help and to collect and distribute emergency relief items.
ACT Alliance has made an emergency grant so the National Christian Council of Churches in Sri Lanka can distribute food and non-food items as well as provide healthcare and water and sanitation support.  CWS will make an emergency grant to MONLAR and consider additional funding for the NCCSL appeal depending on funding.
MONLAR says this is not just a natural disaster but also a result of unsustainable development activity.
Photos: MONLAR/Dushantha Kumara