Tonga Cyclone Appeal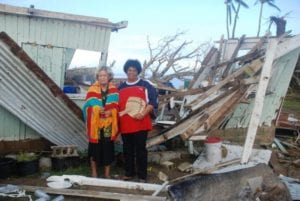 Mele'ana and 'Ana Kofe return to their home in Koufo village, Lifuka

Photo: Pesi Fonua/Matangi Tonga
Cyclone Ian hit Tonga's Ha'apai and Vava'u island groups on 11 January, 2014 killing one person.  The category 5 cyclone destroyed or damaged 99% of the homes in the worst affected Ha'apai island group (population 6,600).  Crops and livelihoods have been destroyed.  Aerial assessments show widespread damage.  The Vava'u group was not as badly affected.  Power has now been restored.
CWS women's partner, Ama Takiloa part of the Tonga Community Development Trust is undertaking assessments.  The first team reporting from Piula, Silia and Na'a in Vava'u says banana and fruit crops were the worst affected.  Most of the nearly ripe mangoes came down.  The demonstration plots used in their gardening programme survived and they have repaired the access road.
In Ha'apai they expect to help with food, water, shelter and medical needs.  Ama Takiloa has run workshops on disaster preparednes and climate change adaptation for women for a number of years.  They have skills in repairing and maintaining water tanks as well as the ability to organise local efforts.  Equipment will be needed for the clean up operation and to repair or rebuild homes.
Ama Takiloa wants to help with food, water and livelihoods.  They are asking for support to make finanical payments to affected 838 households so the families have funds for school fees, clean up equipment or what is needed.  They plan to help with clean water and the repair of water tanks and systems.  They need funds to purchase seeds and plants to restore gardens and to establish 13 village community gardens. CWS is asking for your help so they can get on with the job.
Please donate to the Tonga Cyclone Appeal to help the women get on with the job.