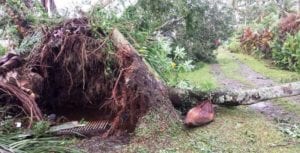 Update: Tropical Cyclone Zena swept through Fiji on the evening of 6 April delivering heavy rain and strong winds.  The Methodist Church offered its buildings as evacuation centres in affected areas – 8,000 people sought shelter in the Western Division.  Local people are assessing the damage.  Newly planted seeds and seedlings have been washed away in the rain.  With the weather lifting, people will be able to get on with efforts to replace homes and livelihoods.
Cyclone Winston has caused widespread damage across Fiji and claimed the lives of 44 people and injured a reported 135 others. The cyclone has affected 40% of the population –  350,000 people. The worst hit areas have lost 80-100% of food crops.
The category 5 storm with wind gusts topping 300 kilometres per hour destroyed homes and crops, leaving families in need of support in coming months. Damage touched most parts of the country and the Fijian Government has asked for international support.  The Government reports 28,000 homes have been damaged of which 11,000 have been destroyed.  In the worst affected areas 100% of crops have been destroyed.
The Social Empowerment and Education Programme (SEEP) is distributing food rations, building tools and materials, water and hygiene packs.  Their immediate focus is on isolated communities in the hilly interiors of Viti Levu and Vanua Levu.  They are also distributing supplies to fishing communities on coastal Vanua Levu.  They will assist with psychosocial programmes for children and help people deal with the trauma they have experienced by resourcing local people.  The Ecumenical Centre for Research, Education and Advocacy (ECREA), the Peoples Community Network and the Pacific Conference of Churches are working out what needs to be done. They are coordinating with local government, other community groups and churches. CWS is expecting to help families recover in the weeks and months ahead.
"The destruction has been widespread and very bad. The Lau group of islands, Koro Island, villages on Vanua Levu and their township Savusavu have been hit very badly. Hundreds of homes have been lost, infrastructure damaged, farms, vegetable gardens, livelihoods destroyed. Water and power supply to many areas are still down." 
Rev Dr Cliff Bird Uniting World reported from Suva.
Please help the people of Fiji survive this devastation.  Your donation will help families have food and shelter.