A brutal civil war in the DRC has claimed nearly 6 million lives and forced 2 million people from their homes since 1998. Over the past few months, fighting has intensified in eastern DRC and 200,000 civilians have fled for their lives.  They are seeking shelter in make shift camps, abandoned buildings and family homes. CWS partners through ACT International are providing urgently needed assistance. You can help:   See our Take Action section on conflict/congo for background information. Donate here to support ACT International relief efforts or phone 0800 74 73 72.
New images from ACT International
These compelling photos were taken by ACT International photographer Tarik Timazay at a displaced person's camp on the outskirts of Goma. They dramatically show the conditions people are living in after fleeing for their lives. CWS is supporting ACT International relief efforts in the area.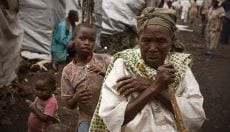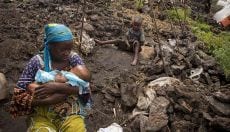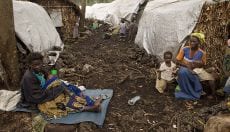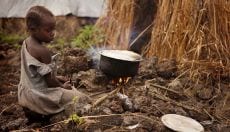 Opening your home to fleeing strangers
While official figures of newly displaced people in crowded camps around Goma are still being determined, another reality of displacement remains in the shadows: the thousands of families who have opened their modest homes to fleeing strangers. Although these displaced persons do not appear to be immediately at risk of malnutrition and disease like those jammed into camps, they are weighing on the meager resources of their hospitable host families — and feeling undignified for having to do so.
In a meeting last week with a pastor in the western suburb of Keshero outside of Goma, an ACT Internatiinal assessment team learned of the needs within the area. The pastor had compiled a list of host families with the numbers of people each was housing.
As many aid groups work to assist those in displaced person camps, ACT members are working through church and local networks to identify needs and prioritise assistance for the largely 'invisible' displaced families and the increasingly vulnerable communities who are hosting them. Initial plans for assistance include support for an estimated 60,000 people, as well as water and sanitation support for significantly more families.
According to the local pastor's list, Maria Buira's family had opened their doors to 18 people that had fled from Masisi. Among the people that she accommodated was her elderly mother along with a group from the same village.
Standing at the entrance of her small wooden house in the heat of the midday sun, Maria said, "I couldn't turn them away, but as they became too many, I started to look for other places for some of them to stay. My house is small, you see." She identified the owner of an unfinished brick building around the corner and convinced him to unlock the gate to allow additional displaced families to camp at the construction site.
At the unfinished doorstep of the skeleton of a brick house, three families camp under the clumsily erected roof. Twagira, a 23-year-old mother of four children was sitting on a pile of bricks, holding her six-month-old youngest child, who was born into displacement. Twagira and her husband had left their village of Tongo for the first time in January.
"We came all the way to Goma, because there was no security closer to our home village. By April we decided to return to at least try and cultivate our fields and produce a living… but had to flee again in July. Here in Goma we are at the mercy of others, there's no land to cultivate. My husband goes out in town every day and looks for little things to do here and there to get paid 200, 300 francs [less than US $0.50] for doing small things for others," said Twagira.
In addition to poor shelter conditions for some families, the vulnerability of host communities is also increasing. With the arrival of those who fled, the need for firewood can double or triple for long periods of time and the surrounding environment is beginning to suffer from deforestation.
Twagira did not pronounce a word of complaint about their current living conditions at the construction site. When asked if they were uncomfortable at the construction site, she said, "There are no latrines. When it rains the water comes inside. We do not have mats, we sleep on those rocks… We just want to go home."
Many of these 'invisible' displaced families have already fled twice in a period of six months. An elderly couple, Papa Banzoa and Mama Pascaline, now staying at Maria's house, arrived in Goma after the latest wave of fighting. Although the sounds of battle were not yet heard in their village of Munigi, the crowd of people fleeing towards Goma worried the old couple.
"We saw all these people running, running, so we decided to leave too. We are old and weak, so we just walked slowly until we reached Goma. We did not bring anything with us. By the time we got to the borders of the town, the crowd with whom we started to flee had dispersed here and there. We were among the last ones to reach Goma. These people kindly opened their home to us, we are just staying here for now," Papa Banzoa explained, who is ill and has no means to get treatment.
As violence ensues, families continue to run for their lives leaving everything they had just rebuilt to be destroyed once more. Maria's mother, who had fled to Goma from Kitchanga earlier this year, said that she heard from other people from her village that her house had been looted and that there was little left. When asked whether she plans to return, she replied: "Let me ask you something: Is it over? Is there no more war? Why go back just to run again?"
Anna Muinonen ACT International 10 November 2008
Byamungu's story: "I do not want to become a fighter"
Byamungu is 18 years old. The fighting has forced him from his home and education. "I was in the third grade of secondary school back home. I did not run away under gun fire — I left because I heard the war was coming. And every time the war is coming, they come to the villages and recruit young boys by force. I did not want to become a fighter. I want to go back to school, but now I'm just concerned about helping out the family that is housing us here. I spend all day looking for small errands to do, to be able to bring at least something back to our host family at the end of the day."
Anna Muinonen ACT International 10 November 2008  
ACT International Relief Efforts
CWS partners through ACT International are delivering assistance to communities displaced by conflict in the eastern Democratic Republic of Congo.
An estimated 250,000 people have fled their homes in the past two months to escape fighting between government troops, UN peacekeepers and rebel forces in north and south Kivu and around the regional capital of Goma, close to the Rwandan border in eastern DRC.
Internally displaced persons have spent their nights on bare ground and under the open sky for the past week without food, shelter, medical and material assistance. Now in the height of the rainy season, the risk of disease is increased and combined with a hunger crisis that is threatening the displaced populations. In addition, vulnerable families are at even greater risk as many local health centres have been looted.
ACT International members distributed a 14-day food ration and non-food items to 150 households in the Sasha IDP camp last week, and a stock of medicines were delivered to a health centre in the Minova area. Additionally, a therapeutic feeding centre has continued to assist 90 children throughout the fighting.
A fragile cease-fire is now in place after full-fledged fighting broke out in Masisi between government and rebel forces.  There were reports of looting, killing and raping of civilians in the town of Goma as uncontrolled elements of armed groups fled from the battlefront.  The United Nations has negotiated humanitarian access to the affected area and ACT International members are currently assessing needs. In addition to food, water and shelter, they will be looking into trauma counselling and protection needs.
This recent intensification of fighting is part of an ongoing conflict that has killed nearly 6 million people since 1996. The UN reports that between 1.4 million and 2 million people are displaced in North Kivu, which includes those uprooted from earlier waves of fighting. They say the DRC conflict is the deadliest conflict in the world since World War Two. 45,000 people die each month as a result of the conflict.