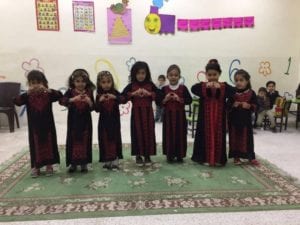 Help our partners provide the assistance that refugees need now in Jordan and Lebanon.  After years of waiting there is no peace.  Many families have no work or income but fear returning home.  International contributions are falling.  Children need good food, medical care and the chance to go to school.
ACT Alliance members have been offering practical help from the beginning.  Food, blankets, clothes, hygiene kits and medical assistance are high on the urgent list.  ACT Alliance is meeting immediate needs and helping displaced families survive.  DSPR offices (the Department of Service to Palestinian Refugees) in Jordan and Lebanon are focusing on education, health care, emergency assistance, livelihoods and psychosocial care.  With funds long gone, refugees are grateful for the Free Medical Days run by DSPR in Jordan Camps.
5.7 million people are living in neighbouring countries.  1 in 6 residents of Lebanon are refugees, the highest number in the world relative to its population. Please give generously to help our partners respond to people in need.
Refugee Resources
Video showcasing the work of DSPR Lebanon (JCC in the film) from Christian Aid
#With Refugees Short video from ACT Alliance
Refugee resources
ACT Alliance EU calls for a collective and rights-based response from European Union member states to the refugee crisis. September 8, 2015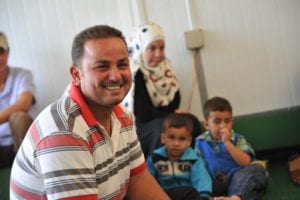 "Everything in Syria is destroyed.  It is not safe for my family.  As a father I would do anything to make my children happy" says Hamesh, a resident of Za'atari Refugee Camp, Syria   Photo: LWF/M Renaux
2015 Refugee Sunday Resources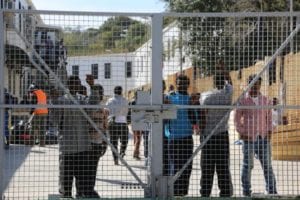 Their Only Security is Us – a reflection for Refugee Sunday by John Bluck.
World Council of Churches' liturgy for peace prepared for 15 March, the fourth anniversary of the conflict.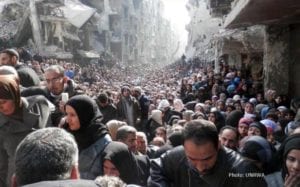 "In the Day of My Trouble I call to you" – Worship resources prepared for Refugee Sunday 22 June (Presbyterian Methodist calendar) and "Please give me a little water from your Jar" 6 July (Anglican Calendar).  A PowerPoint presentation on Syrian refugee children (to accompany children's talk) and a worksheet for children, and a PowerPoint Visual Prayer.
2013
World Council of Churches Statement for Geneva 2 Talks – 17 January 2014
Churches' Statement
On September 19 the World Council of Churches organised a meeting of Church leaders from Syria, the European nations, Russia and USA with Kofi Annan, former UN general secretary and Lakhdar Brahimi, UN Arab League joint representative for Syria. They discussed how churches could help towards a peace agreement.  

Day of Prayer for Syria

CWS encourages people to join in prayer and action for Syria, initiated by Pope Francis and endorsed by the World Council of Churches on Saturday, 6 September.  We also invite churches to pray for the people of Syria, the refugees and displaced, and for peace on Sunday, 7 September. 
Dr Bernard Sabella, executive director of the Department of Service to Palestinian Refugees has written:
"I really want to let you know how much your efforts at CWS are important for us and for our work both in Jordan and Lebanon. The support we get from New Zealand is especially significant for us because it spans oceans and continents and it shows how we all live in one world. The spirit of the New Zealand caring people who give support to our work is a spirit that challenges space and distance to say that we are with you with the little we can offer. Thank YOU New Zealand people!" 
In April 2013 two Syrian Church leaders were kidnapped and their driver killed.  Read the WCC statementand a joint communique from the Greek and Syriac Orthodox patriarchs on the current situation 22 April 2013 .