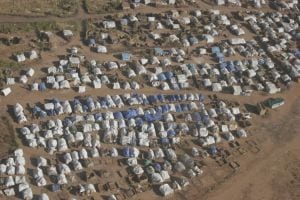 Update March 2009
CWS partners have not been affected by the latest ban on agencies working in Darfur.
The International Criminal Court has issued an arrest warrant for Sudanese President Omar Hassan al-Bashir for war crimes in Darfur. Following this decision, the government of Sudan revoked the licences of up to ten aid agencies providing humanitarian relief in Darfur. Despite this move, CWS partners are still able to provide humanitarian relief.
CWS has been supporting the ACT (Action by Churches Together) International/Caritas Internationalis programme since 2004. This programme is managed by Norwegian Church Aid (NCA) and the work is largely carried out by local Sudanese organisations and volunteers within the camps. To date, NCA has NOT been approached in connection with the expulsion of international NGOs. Although there will be some reduction in the level of operations due to the difficult situation, their work is able to continue.
These latest developments will worsen the dire conditions for civilians in Darfur where 2.7 million people have been displaced by civil war. The focus of the CWS supported programme continues to be life saving activities including food, health, water and sanitation.
About the Crisis
The UN describes Darfur as the world's worst humanitarian crisis. Now in its seventh year, the ethnic conflict in Sudan's western province is taking a terrible toll on the civilian population. At least 400,000 people have died from violence, disease or starvation. Another 2.5 million people (one third of the Darfur population) are living in displacement camps, forced to flee their homes to save their lives.
In January 2009, the UN reinterated the need for continued world attention, warning of a humanitarian catastrophe if Darfur fighting continues.  Its peacekeeping mission in Darfur has expressed grave concern for the lives and safety of tens of thousands of civilians in a Darfur town recently affected by fierce fighting between rebels and ex-rebels.  The joint UN-Africa Union mission (Unamid) said continuted fighting between the two Darfur movements could lead to catastrophe for the 30,000 residents and displaced civilians.
Another Sudan observer said in January 2009 that recent Sudanese government aerial bombardment and ground offensive against the rebel Justice and Equity Movement marked the worst violence in Darfur in a year.  "Sudan is in a state of high tension at the moment and we face a dangerous month ahead,"  Sudan expert Alex de Waal said.
Since 2004, CWS has been supporting the ACT International (Action by Churches Together) and Caritas Internationalis humanitarian relief programme in Darfur. The primary goal is to improve the quality of life of internally displaced persons (IDPs) affected by the violence and unrest in South and West Darfur. As one of the largest relief operations in the region, ACT-Caritas is assisting more than 250,000 people. The programme includes
Water and sanitation services
Food
Health care
Trauma counselling
Schooling
Agricultural development
The UN estimates that 100,000 people would die each month without international aid.
Support the CWS – Caritas Appeal. Donate here or phone 0800 74 73 72
Download backgrounder on the crisis and appeal leaflet