On 15 September Typhoon Mangkhut ploughed into the northern Philippines.  Known locally as Ompong, the typhoon's wind speeds topped 200 kilometres per hour and torrential rains destroyed homes and crops as well as causing major landslides.  At least 81 people have lost their lives and 893,000 people were affected by the worst storm to hit the Philippines this year.  Heavy rains and strong winds continue to buffet the area.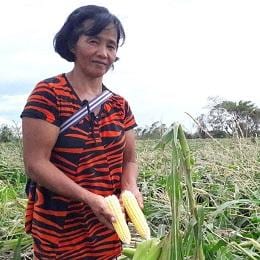 (Photo above: Road to Antamok, Itogon Benguet.  Credit: UCCP/Bishop Reuel Norman Margiza)
Christian World Serviceis working alongside local partner the National Council of Churches in the Philippines to respond.  NCCP is mobilising national and international support to provide emergency food supplies, hygiene packs and shelter kits for families.  With more support, they will help 1,500 farmers replant lost crops and train 400 households in disaster response.  NCCP is part of ACT Alliance Philippines and will focus on remote communities in the mountainous regions.
Farmers were days away from harvesting rice and corn crops in this agricultural region.  Some would have taken out loans to meet growing costs and lost family income as crops were lost to the storm.  There will be major food shortages unless they get the help they need.
"We can't sell these damaged crops anymore.  It's devastating.  We might just feed these to the animals, our carabaos (buffalo).  I could also cook this for my family.  We will have to make do," says Gladys Ganado, a farmer in Ilagan City, Isabela province.
Gladys planned to harvest her corn in two weeks' time. Her crop was flattened by the typhoon.
(pictured right Credit: NCCP-ACT Alliance/Jonathan Sta Rosa)
Please donate now so families have food, shelter and can replant.