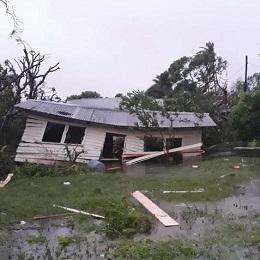 Tropical Cyclone Gita caused widespread damage in Samoa, American Samoa, Fiji and Tonga from 10-13 February. Winds topped 230 km per hour by the time the Category 4 storm hit Tonga. Tongan authorities estimate 78,000 people on Tongatapu and 'Eua are affected. People have been clearing roads blocked by fallen trees and debris. Many homes are badly damaged or collapsed. 70-80% of fruit trees are down. 40-50% of root crops are damaged. 40% of fishing vessels are damaged or lost. Parliament House collapsed.
Four months later, Trish Murray visited Tonga. She said the relief effort has been very uneven. "Ama Takiloa is well-placed to address the gaps after the initial response," she says. They have the flexibility to meet specific individual and community needs after other programmes have ended.
Read the Tonga Report.
Our partner Tonga Community Development Trust is helping households repair/replace damaged rainwater systems including roofing and establish demonstration plots or community gardens. They will distribute seeds, seedlings, and young fruit trees to vulnerable households. They are planning to supply ducks and chickens to some households. Working together in 4 communities each on Tongatapu and 'Eua, they will address some of the psychosocial needs after the storm.
Download an appeal leaflet as PDF
Thanks to Solomone Savelio, Virgine Dourlet, Tutu on the beach, Rohit Pillay and John Pulu for the images related to the appeal.
Donate Today!
With your help, we will help families repair rainwater tanks, rebuild gardens and improve livelihoods.
Give them a hand!