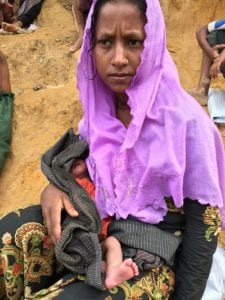 The Monsoon season began on June 17.  Heavy monsoon rains are now hitting Bangladesh.  Nearly 14,000 people have already been affected by rainstorms, landslides and erosion.  Nearly 3,000 people have lost their shelter.
Hundreds of thousands of people need food, shelter, and safety but conditions are incredibly difficult.  With your help, our local partners have provided families with food, water, sanitation, shelter, medical care and psychosocial support to the refugees and their neighbours in Cox's Bazaar.  If you can, please give again to keep the families going and give help to those in deepest need.
Since 25 August 2017 violence intensified in Myanmar's Rakhine province, Bangladesh's government, international agencies and local groups have struggled to support them.
ACT Alliance is working to increase local resilience and provide psycho-social care as well as meet the needs of the most vulnerable.
Like most refugees from Myanmar, Humaira (pictured right) has a tragic story to tell. Both her husband and father were killed by gunfire. With her mother and three children, she fled her village in search of safety. Exhausted after many long days walking, the family reached one of the camps set up for refugees. A few days later she gave birth to the baby she had been carrying. When ACT Alliance staff met up with her, she was trying to find a patch of land where she could put up a tarpaulin for shelter. Photo Christian Aid
The majority of the refugees are women and girls who report molestation, rape and killings. They are traumatised and in need of protection.
Cox's Bazaar where most are sheltering is overcrowded. There are few roads and drainage is poor. Tensions are growing, as people scramble for very limited supplies.
The Bangladeshi government and aid agencies are struggling to cope with the desperate and immediate needs.